The battle for the world's largest hot dog is as exciting as eating a long, meaty surprise sandwiched in a continuous bun.
Battling for the world record in creating the longest hot dog started in 2001. A 15.25-foot hot dog came all the way from Pennsylvania to garner the world record. Two years later, a 16.1-foot hot dog from Chicago came to steal the record. But not long after, about three months after the Vienna Beef and Rosen's Bakery garnered the nod, a 34.44-foot hot dog from South Africa took the record away.
The following July of 2004, Vienna Beef again made an effort to obtain the record. In celebration of the National Hot Dog Month, it created a 37.2-foot hot dog sandwich. Interestingly, its bun used over 200,000 of poppy seeds.
In July of 2005, a 50.6-foot hot dog was made for the Great American Hot Dog Festival held in Ohio. But just a month later, the record was challenged with a 57.5-foot hot dog made for a fundraising activity.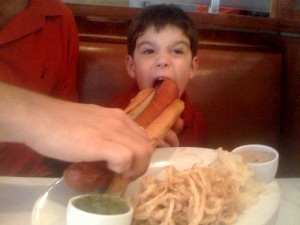 In 2006, three long hot dogs showed up to garner the world record. There's the 65.6-foot presented in February, the 104.75-foot in July, and the 200 plus-foot hot dog made by Shizuoka Meat Producers of Japan. The previous record holder was presented as part of the 50th anniversary of the All-Japan Bread Association. After the hot dog sandwich was measured, it was cut up and eaten by those present in the celebration.
But wait, there's more. A hot dog sandwich measuring 1,996 feet was made by Sara Lee Corp. in 2006 for the 1996 Olympics. It did not prosper in garnering the world record due to some technicalities. Specifically, the technicality was about the bun, which was not made continuous.
Due to that occurrence, it was clear that creating the world's largest hot dog is not much of a feat but creating a continuous hot dog bun to pair it with is the real challenge. For the bun to come up in a continuous manner, it must be baked in its final form, which requires a long conveyor belt.
In creating the longest hot dog sandwich, you will need a lot of space, a long conveyor belt, and ovens. The bun and the wiener are fed through the ovens per section through a conveyor, separately. There should be a roomy space where the bread and the meaty hot dog will exit the ovens as they are being cooked.
The rate the bun, especially, must go should be at constant so it does not pull apart and come out in continuous form.