How Tall was the World Trade Center?
The World Trade Center Statistics
The World Trade Center is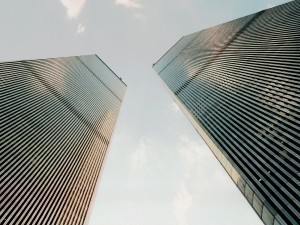 actually more than its popular signature name of Twin Towers. It is actually a complex composed of seven building standing on 16 acres of land in Lower Manhattan in New York City. The whole complex is constructed as well as operated by a government agency known as the Port Authority of New York and New Jersey. The two towers rose proudly at the center of the complex.
The height of one tower is 1,368 feet or 417 meters and the other tower has the height of 1,362 feet or 415 meters. The height of the twin towers is equivalent to 110-storey and is more than 100 feet taller than the Empire State Building including its silver mast. The architect of World Trade Center is Minoru Yamasaki of the Emery Roth and Sons consulting. The engineers of the towers are John Skilling and Leslie Robertson of the Worthington, Skilling, Helle, and Jackson.
The groundbreaking of the World Trade Center occurred on August 5, 1966. The opening of the various parts of the facilities happened within the years 1970 to 1973. The ribbon cutting for the entire complex made its way on April 4, 1973. In September 11, 2001, no one can forget the awful day when the famous twin tower was destroyed.
History
The construction of the entire complex of the World Trade Center was being considered ever since the close of World War II. The Port Authority has foreseen this construction project to be of 10 million square feet of office spaces in total. At first, it was to be only 80 to 90 storeys in height but a suggestion to make the twin towers to be the tallest buildings in the world was considered.
The architect and engineers involved work closely together to make everything a reality. The engineers of the World Trade Center applied an innovative structural model. It is a firm 'hollow tube' made of steel columns that are closely spaced with each other. The floor trusses of the building were extended over to a central hub. The steel columns were 18 and 3/4 inches wide and placed apart from each other for only 22 inches. It has a silver-colored aluminum alloy finished making the twin towers to be depicted from afar with having no windows at all.
The construction of the World Trade Center started in 1966 and the estimated cost of the project is 1.5 billion dollars. Tower One was made ready for its initial tenants late in 1970 even though the top storeys were not yet completed until the year 1972. Tower Two was completed in the year 1973. For a few years, the Twin Towers were the largest and tallest buildings until in 1974 when the Sears Tower surpassed them in both categories.