What is the size of Louisiana?
The size of Louisiana is 51,885 sq mi (equal to 135,382 sq km).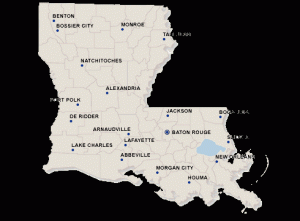 Louisiana is 130 miles wide (210 km) and the length is 379 miles (610 km).
Geographical Information
The state's latitude is 28 degrees, 56' N to 33 degrees, 01' N and the longitude is 88 degrees, 49' W to 94 degrees 03' W, Louisiana's highest point is Driskill Mountain (535 ft or 163 m). The lowest point is New Orleans at -8 ft (-2 m).
The land is segregated between the alluvial and the uplands. The alluvial lands cover up 20,000 sq miles (52,000 sq km). This section is near the Mississippi River which goes from north to south at 600 miles (1,000 km).
The uplands cover an area of 25,000 sq miles (equal to 65,000 sq km). The size of Louisiana's land allows for variation of sea level elevations. They go from 10 ft (3 m) up to 50 ft to 60 ft (15 to 18 m).
Population
The population (as of 2008) was estimated to be 4,410,796. The density is 102.58 sq mi (39.61 sq km). The earliest census record available is from 1910. It showed a population of 76,556. The population size doubled in 1820 to 153,407 and reached 215,739 by 1830. By 1850 the state was home to 517,762 individuals. The figure reached 939,946 by 1880.
Louisiana's population in 1900 was 1,656,388. It reached 2,101,593 by the 1930s. By the 1960s the size of Louisiana's population had gone up to 3,257,022. The numbers reached 4,205,900 in 1980 and 4,468,976 in the year 2000.
Demographics
According to year 2000 government statistics, 65% of the population was white, 32.95% were black, 1.45% Asian and 0.96% were American Indians. About 5% of the population above 5 years of age can speak French and 2.5% can converse in Spanish.
Major Cities
New Orleans is the most heavily populated with 288, 113 (as of 2007). It is followed by Baton Rouge with 227,071, Shreveport with 199,569 and Lafayette with 113,544. Lake Charles is at number five with 70,270, and Kenner is at six with 65,202.
Bossier City is seventh in terms of population with 61,801 and Monroe with 51,208. Alexandria is number 9 with 45,857 and New Iberia is the tenth most populated city with 32,910.
Parishes
The size of Louisiana's parishes (the state's version of the county) varies greatly, as the following examples will show.
Acadia Parish has an area of 1,790 sq mi (4,411 sq km), Allen Parish measures 1,983 sq mi (5,125 sq km); Ascension measures 784 sq mi (2,031 sq km) and Beauregard Parish 3,020 sq mi (2,822 sq km).
Bossier Parish has an area of 2,245 sq mi (5,815 sq km). Winn Parish's area is 2,478 sq mi (6,418 sq km). West Carroll measures 833 sq mi (2,416 sq km). Union Parish has an area of 2,345 sq mi (6,075 sq km). Saint Tammany Parish's area is 2,811 sq mi (7,539 sq km) and Saint John the Baptist Parish has an area of 901 sq mi (2,335 sq km).
The diversity of the size of Louisiana's parishes is a reflection of the state itself, as it has become known for being a cultural melting pot.