How Big Is a Quarter Sheet Cake?
Do you have a party to prepare? Are you looking for a nice sweet treat to serve your guests that is convenient to pick and easy on your budget? Try a sheet cake and your problem is solved.
For any kind of party, a sheet cake is a very practical choice. It comes in handy whenever you need to throw an impromptu party. It will also make for a nice gift that can be shared by everyone.
What is a Sheet Cake?
A sheet cake is any ordinary cake. It is not a variant according to flavor or décor. The name of the cake is derived from the kind of mold or pan used to make it. A sheet pan or jellyroll pan is used for sheet cakes. It is considerably bigger than the usual cake pan or even the round mold that are mostly used for homemade cakes.
You can make your own sheet cake at home. All that you need to do is to acquire a sheet pan. Make sure that when you buy and you cannot afford all three sheet pan sizes, you get the size that you think will be useful to you the most.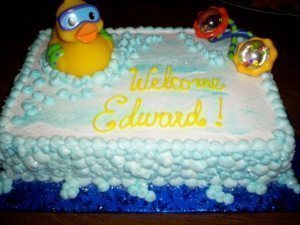 A sheet cake is primarily 16 inches by 24 inches big. Since that size is not practical for smaller parties, smaller sizes are also available. There is a half sheet cake, which is 12 inches by 16 inches big and a quarter sheet cake, which is 8 inches by 12 inches big.
How Big is a Quarter Sheet Cake?
The commercial quarter sheet cake is slightly smaller than the standard homemade sheet cake, which is about 9 inches by 13 inches. It can feed about 15 to 30 people, depending on the serving size you would like to offer your guests.
A quarter sheet cake is deemed perfect for a Sunday family dinner. It is also very practical to serve a small circle of close friends during your birthday or to celebrate a milestone in your life like college graduation, having a new baby, getting hired, getting promoted, etc.
If you do not have time to prepare, you can buy a quarter sheet cake in your local grocery store. It is mostly available in a number of flavors and is decorated simply to be adapted quickly to any kind of celebration.
If baking is your hobby, meanwhile, you could eaisly make your own sheet cake. Pick up your favorite cake recipe and bake it onto a sheet pan. Use frosting of your choice to serve as a background for any kind of decoration that you would like to put on top.