Dough blenders can be used for preparing pastry,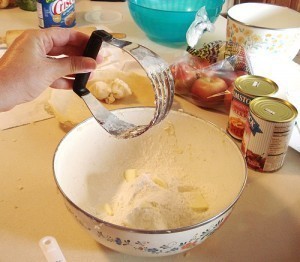 crumb toppings as well as mixing butter and flour. If you are on the lookout for one, you need to check all of its other features to see if they are up to your specifications.
Dough Blender Dimensions: Oxo Good Grips Dough Blender with Blades
This dough blender measures 5.1 x 5 x 2.2 inches and weighs 4.8 ounces. It has a soft handle so pressure is absorbed. The grip does not slip, so the preparation process is not interrupted.
The unit comes with robust steel blades that slice butter on to the dry substances like sugar and flour. The shape fits the hand properly so cramps do not set in when you use it.
The blender is designed for big bowls although it can also function with smaller ones. Cleaning can be done by hand or by using a dishwasher. A kitchen brush can also be used.
Dough Blender Dimensions: Best Manufacturers Pastry Pro
The Best Manufacturers Pastry Pro measures 6.2 x 4.5 x 2.8 inches and weighs 6.4 ounces. The blade measures 5.75-inches high x 4.5-inches wide. The blades are shaped like diamonds and designed for pastry.
It can be cleaned using a dishwasher. The blender has comfort grips so your hand does not get fatigued. The blender frame is made from stainless steel. There is no need for pre-sifting the flour. The butter does not have to be cubed either. The blender can be used for creating pies and guacamole as well.
Dough Blender Dimensions: Miallegro 3070
The Miallegro 3070 mixer dimensions are 13.2 x 11 x 10.8 inches. It is a two in one stand and hand mixer. The hand mixer can be used for small tasks and the stand mixer for more complex recipes.
There are five speed settings and a turbo setting. The beaters are chrome, as are the hooks, giving it a highly polished appearance. Besides the ergonomic design, it has an easy grip handle. The glass bowl can hold up to two quarts. The motor is 250W and has a 360 bowl rotation feature.
Dough Blender Dimensions: Oxo Good Grips
The Oxo Good Grips measures 5.1 x 4.8 x 1.2 inches. The handle is soft and wide, allowing for absorption of pressure. The rubber handle is also easy on the hands, making it simple to use for those with any type of hand pain.
Aside from blending dough, the Oxo Good Grips can be used for making crumb toppings. The mixer can be used for creating cobblers and coffee cakes too. It can be used in a dishwasher and has stainless steel wires.
Because it uses wires rather than ordinary blades, there are no sides margarine can stick on. This pastry blender is also durable and can withstand heavy duty use in kitchens.
The dough blender dimensions, particularly its capacity, have to be evaluated before any purchase is made. Before you buy, make sure it can handle the amount of dough you prepare on a regular basis.