How Big is Princeton University?
One of the universities included in the Ivy League, the Princeton University is situated within the Borough of Princeton at Princeton Township in Plainsboro, New Jersey. The school is popular for offering excellent curriculums for undergraduate students and outstanding graduate programs in engineering, social sciences, natural sciences and humanities. This institution has connections with other educational facilities including the Princeton Theological Seminary as well as the Institute for Advanced Study. To know more about this university, it is best to look at the size of the school in terms of population and total area covered by the campus.
The Size of Princeton University
How big is Princeton University? The campus of the institution occupies 600 acres or 2.4 square kilometers of land. The Nassau Hall is the oldest structure in the campus and it was built in 1754. The modern buildings in the university include the Fine Hall, which was constructed in 1970. Aside from these structures, students can also find other buildings in the campus such as the First Campus Center, the Demetri Porphyrios' Whitman College as well as the Rafael Vinoly's Carl Icahn Laboratory.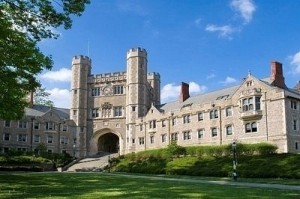 In addition to the buildings, there are other historic and interesting areas within the premises of the university. These include the Cannon Green, where the Big Cannon and the Small Cannon were buried. Other structures in the campus are residential colleges, the McCarter Theater, the Art Museum as well as the University Chapel.
Another way of measuring the size of the university is by determining the total population of undergraduate and postgraduate students as well as the members of the faculty. The university has 4,918 undergraduate students and 2,416 postgraduate students. The estimated population of the institution's faculty is 1,044. The number of the school's staff is 1,103.
Additional Information and Other Important Details
The university has 29 academic departments in the A. B. Degree Program. Aside from the program, the university is popular for establishing an excellent School of Engineering and Applied Science.
The academic departments in the university include the Department of Anthropology, the Department of Applied and Computational Mathematics, the Department of Architecture, the Department of Atmospheric and Oceanic Sciences as well as the Department of Civil and Environmental Engineering. In addition to these, undergraduate and postgraduate students can also enroll in certificate programs offered at the school like African Studies, Engineering Physics, Engineering and Management Systems, Near Eastern Studies, Russian and Eurasian Studies as well as Robotics and Intelligent Systems.