If you're in the planning stages of building your own home or you would want to add another bedroom to your existing home, it is important to know what type of bedroom it will be, i.e. master's bedroom, kids' bedroom or guest bedroom.
This way, you will know the bedroom size that you need to allot space for. It is also important to know how elaborate you want the bedroom to be so you can allot additional space for the lay-out of the room.
Standard Bedroom Sizes
Ideally, standard bedroom size for your master's bedroom should at least be thirteen feet by twelve feet. This size will fit a King-sized bed, 2 side tables for each side of the bed and ample walking space for two.
For a little more space, master's bedrooms can be anywhere from fourteen feet by fifteen feet up to fifteen feet by sixteen feet. This is roughly between two hundred square feet and two hundred and fifty square feet.
For bigger houses, three hundred and fifty square feet of space is allotted for the master's bedroom. Dimensions for this are approximately around twenty feet by seventeen feet, nineteen feet by eighteen feet and twenty feet by eighteen feet.
Guest rooms and children's room are about eight feet by eight feet up to eleven feet by eleven feet.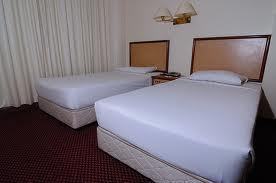 The thing to remember here is that you first have to check the available space you have for the bedroom so you can come-up with a design lay-out that is ideal for the space.
Other Space Considerations
One way to also help you determine the size of the bedroom that you can afford to allot for it is to think of the bed size that you will be putting inside the room.
A Twin-sized bed is the smallest standard bed size that you can easily find in the market and a King-sized bed is the recommended bed for a master's bedroom.
Next is to think of all the other furniture that you will be placing inside the room. For instance, for your dresser or chest drawers, a space of between three and four feet is recommended for the front of these pieces of furniture.
As for the sides of the bed, a space of about one foot and six inches up to two feet is ideal so you can have enough space for when getting on and off the bed.
On the other hand, if you are going to be placing two beds inside the bedroom, there should be at least two feet up to two feet and six inches of space between the two beds.
This will allow for enough space to get on and off the bed from the middle space of the two beds.
Knowing these spaces will help you get the right dimensions for the bed that you have in mind.