Sizes of Baby Mattress Pads
Any parent would be quick to point out that once the baby comes, parents' schedules turn topsy-turvy. When it comes to taking care of the baby, there is no fixed schedule.
Just when you though that the baby has finally developed his sleeping and feeding habits, everything changes once again. This is why when the baby is sleeping, parents take advantage of this brief respite and try to catch-up on sleep or do other things that have been put on hold.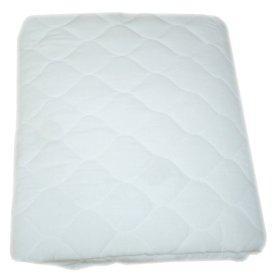 Ensuring that the baby sleeps soundly, especially at night is therefore top on every parent's list of priorities. Baby mattress pads can help induce a more comfortable sleep providing the baby with longer hours of rest time.
Sizes of Baby Mattress Pads
There are several sizes of baby mattress pads and your choice depends on the size of the baby's crib or cradle.
Generally, you will find that the standard sizes of baby mattress pads range from fifty-one and five-eighths inches in length by twenty-seven and one-fourth inches in width, to about fifty-two inches long by twenty-eight inches wide.
You can see that the discrepancies in both lengths and widths are just under an inch. The usual thickness of these mattress pads is around one to one and one-half inches; although you can also find the above sizes of baby mattress pads that are around six inches thick.
If you have a smaller-sized crib, there is a mattress pad that measures thirty-six inches in length by eighteen inches in width, and you will find that this is readily available in the market.
Choosing Baby Mattress Pads
Other than checking for sizes of baby mattress pads to ensure that what you will be getting will fit the crib perfectly, another essential factor that parents should look into is the material from which the pad was made.
These days, a lot of parents are opting to go with organic cotton mattress pads. Organically-grown cotton ensures that no pesticides or harmful chemicals were used to grow the cotton trees.
What this translates to is that the baby will not be exposed to any harmful chemicals as he lies down on his pad to slumber. These organic mattress pads are also hypo-allergenic which means that your baby will not suddenly develop rashes, start wheezing or have a hard time breathing while he sleeps on his pad.
It is also important to check if the mattress is waterproof or not. There could be incidents of leaking from the diapers as the baby sleeps and this will not only get the baby soaked through as he sleeps, the wetness can penetrate the pad which will then get the bottom mattress wet as well.
So other than checking for which sizes of baby mattress pads are available in the market today, it is also of utmost importance to check for the safety and comfort of the mattress pad.