Ceiling fan sizes are almost as varied as the styles of the fans themselves. But there are some general guidelines you can rely on.
Finding the Right Measurement
Use a measuring device and get the width and length of the room. Multiply the length by the width. The result is the square footage. Using this figure you can get an idea of the fan you should get.
For a room measuring 75 sq ft, pick a fan with a 36 inch blade. For rooms measuring 76 to 144 sq ft get ceiling fans with 36-42 inch blades. If the room measures 144 to 225 sq ft, a 44 inch blade will be sufficient.
The ceiling fan size for rooms over 225 sq ft should be 50 to 54 inches. For larger rooms it's best to get two ceiling fans. This is certainly needed for a room measuring 450 sq ft.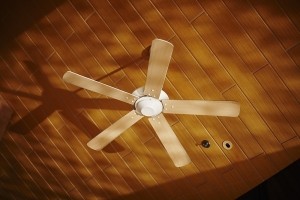 Ceiling Considerations
For average ceilings (8 ft) the standard mount will be sufficient. For higher ceilings (9 to 20 ft), choose a fan with an extended mount. If your ceiling is below 8 ft, get a fan with flash mounts. Some ceiling fans also have light fixtures. This can add 12 inches to the height. You should always consider the possibility that someone might get hit by this light.
What Designs to Use and Where
If you have a high ceiling you can use any ceiling fan size and design anywhere. But if the ceiling is of average height, you'll need to think about this carefully. Elaborate fans (i.e., those with chandeliers) should be installed over a table or seldom used area.
For heavy traffic areas (i.e., between rooms, going to the kitchen etc) use a fan with simple designs. Don't use ceiling fans with light fixtures in these spots. It might cause accidents.
Shopping Tips
Not all fans are created equal. When shopping, look for fans with matched blade weights and arm pitch. Make sure the blades are even and the fan rotors should be appropriate for the ceiling fan size.
Also keep in mind that good fans are not noisy. If the fan emits noise, that is a poor quality fan. A lot of these fans claim that they are energy efficient. It's easy enough to determine this. A fan that uses 1 amp or less is a good one.
Other Components to Look For
Other aspects of good fans include a 16 pole motor and multiple capacitors. In terms of casing, stamped zinc or cast steel is recommended. There are also a lot of controls available.
You can choose from the pull chain and wall controls. There are also slide controls (mounted on the wall), 3 wire installation, dial controls and remote controls.
These fans come in all shapes and sizes. While the practical aspects are important, so is its appearance.
The ceiling fan size is something you should consider seriously. It isn't just about bringing maximum coolness and comfort. The right size will ensure that there will be no accidents.