The plasma TV sizes are varied, with a lot of models in the 40 or 50 inch range. The features and specifications will depend on the manufacturer, but the following are some of the features you can expect.
Dimensions of a 63 inch Plasma TV
The average dimensions of this TV are 3.9 x 60.3 x 36.7 niches. The weight will be 146 lbs with a 1080p resolution. Among the high end variants there will be four HDMI inputs and surround sound. These models will also have 15W speakers.
The response time is .001. The control panels of these TVs will vary greatly. However the popular models make usage of DVD players and other devices a one touch affair.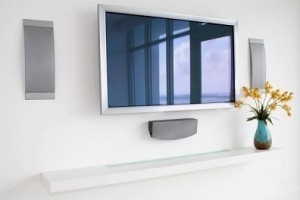 The major manufacturers also make their 63 inch plasma TV size models Energy Star compliant. It means the set takes up less energy than non compliant TVs. You can also hook up cameras and camcorders to these TVs.
Dimensions of a 54 inch Plasma TV
These TVs measure 4.3 x 51.7 x 32.8 inches with a weight of 90.4 lbs. The resolution is 1920 x 1080. Some models come with a dynamic contrast with a ratio of 2,000,000 to 1. Invariably there are inputs for PCs and other devices. A lot of the high end models are also THX certified. They also come with HDMI inputs.
The 54 inch plasma TV size model comes with an assortment of features. These include anti reflective glares. They also have inputs for PC and HDMI. These models also come with a game mode.
This setting is especially made for playing games.
Other models come with controls specifying the hour panel life. A lot of these models also have additional viewing angles. Various units also come with their own color enhancers and filters.
Dimensions of a 50 inch Plasma TV
The average dimensions are 4.2 x 48 x 30 inches. The weight will be around 70 lbs. 1920 x 1080 is the resolution used by high-end models. TVs of this size may be outfitted with a native contrast of 40,000 to 1 and a dynamic contrast of 2,000,000 to 1.
If you buy this plasma TV size, you'll see it comes with at least 2 HDMI inputs and a PC input as well. These TVs (as well as the other ones) almost always include remote control batteries, a "quick setup" guide and cleaning utilities.
Dimensions of a 42 inch Plasma TV
Specifications for the 42 inch plasma TV are 40.6 x 4.2 x 26.1 with a weight of 58 to 60 lbs. These models have 720p HDTV. The native contrast ratio is 30,000 to 1.
All plasma TVs have HDMI inputs. Most have game modes and tools for getting rid of glares. All plasma TVs from the major manufacturers are compatible with DVDs, Blu Ray, camcorders and various home theater surround systems.
When shopping for the best plasma TV size model, you can't just look at the display screen. You also need to check its other features too.