Having a swimming pool in your own backyard has a lot of perks attached to it.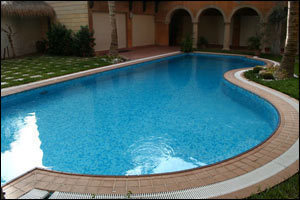 For one thing, you no longer have to go to the public pool in your community every time you feel like a dip.
Secondly, it could save you a lot of family trips to the beach which in turn translates to fewer holiday expenses. If you're thinking of building your own pool, how big of a pool do you want?
A big pool suitable for families is about four or five feet deep and about 12 by 24 feet. However, the length and the shape will depend on your preference since this pool will be used for purely recreational purposes.
Standard Pool Dimensions
On the average, a private swimming pool comes in four varying sizes. Apart for the size mentioned above, other measurements for a private pool are 10 by 20 feet, 14 by 28 feet and 16 by 32 feet.
Public pools can be quite longer and wider since a lot more people could be using these all at the same time. They typically start at twenty-four meters long and can go up to fifty meters long, depending on the available space.
These dimensions are also used for competition pools which are generally found indoors and are heated pools so they can be used all throughout the year. Competition pools should at least be 4.4 feet deep.
Now, for a truly big pool, you may want to build an Olympic size swimming pool. This type of pool was first seen during the Olympic Games back in 1924. The dimensions were set and approved by the International Swimming Federation.
This pool size is very precise in that it has to be exactly 160 feet long by 82 feet wide. It should be at least 6.6 feet deep.
Wading Pools
On the one hand, if you do not wish to build a swimming pool but would still want a pool of your own you can consider getting a wading pool. These likewise come in various sizes and shapes.
Standard shapes are circular, rectangular and square. There are wading pools that are suitable for toddlers and there are likewise larger pools that can fit the whole family comfortably.
Most people prefer to get these pools instead of building one since these are not only more affordable but they are likewise very portable that you can bring it with you anywhere.
Moreover, you can easily take this out on a hot summer's day and store it during the winter months.