Size of Toilet Seat Locks
Baby-proofing the home is very important since babies are naturally curious creatures and they will most certainly touch and play with everything that they can get their hands on.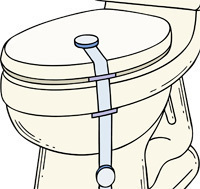 Baby-proofing is especially important once the babies learn how to walk all on their own. This will reduce the risk of accidents in the home, keeping the baby as safe as you possibly can.
The bathroom is one room in the house that needs more baby-proofing than all your other rooms because there are fixtures here that pose risks of drowning, i.e. the tub and the toilet.
Size of Toilet Seat Locks
To prevent your baby from opening the lid of your toilet seat and playing with the water in the toilet bowl or worse, sticking their heads inside the bowl which could result in drowning, toilet seat locks are essential.
The size of toilet seat locks depend on the style but this will generally fit most standard toilet seats. One size of toilet seat locks measures around 14 inches long and 2.5 inches wide with the locking part measuring around 7 inches long.
This size is basically for the type that is attached directly under the bolts of your toilet seat, at the back portion of your toilet seat.
Another type of toilet seat lock is one that you will be attaching directly on the seat with the special locking system holding the seat and the lid in place.
The size of toilet seat locks for this model is approximately 5 inches in length by 4.5 inches in width with the locking part measuring about 3 inches wide.
Installing Toilet Seat Locks
Whatever type and size of toilet seat locks you get, it is important that you follow the installation process to the dot to ensure that these will be properly installed.
These toilet seat locks are generally easy to unhook or open for the adults and older children, but quite difficult for the younger kids to unlock. This feature ensures that everyone else in the family won't have a hard time using the toilet.
If you have several bathrooms in the house, it is recommended that you get locks for each toilet seat so you'll know that each bathroom will be safe for the babies in case they wander into any one of these on their unnoticed.
Since the size of toilet seat locks typically fits standard toilets, you will not have a hard time finding the right locks for each of your toilet seats at home.