When the baby is ready for solid food, you'll need to get a baby spoon. A baby spoon is small enough to fit through your baby's mouth and soft enough so you won't hurt the baby's gums during feeding time.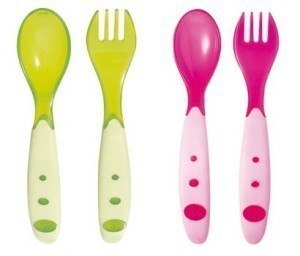 Taking into consideration the size of a baby spoon is therefore very important to avoid incidents of gagging or choking, especially if the baby gets hold of the spoon and puts it in his mouth without adult supervision.
What is the Common Size of a Baby Spoon?
When considering the size of the baby spoon, the most important thing to check is the size of the bowl, or that place where you will be placing the food and putting inside your baby's mouth.
A good size of a baby spoon will have a bowl that measures at most an inch long and an inch wide; when you're just starting to feed solid foods. As the baby grows older, you can shift to a slightly larger-sized bowl.
You will find that some baby spoons have elongated bowls which means that the width is narrower, making it easier to slip inside the baby's mouth.
The narrower bowl could just be a little under an inch but the length of the bowl will still about an inch.
As for the total length of the spoon, this may slightly vary depending on the design or style of the spoon. The standard size of a baby spoon is roughly about five inches in total length.
Others can be a bit longer, measuring about five and three-fourths inches. Some manufacturers also have five and five-eighths inches for the spoon's total length.
Another size of a baby spoon is what is known as a mini version of the standard size and this is roughly around four inches long up to four and one-half inches long.
How to Choose a Baby Spoon
Once you have considered the exact size of a baby spoon that you want, the next thing to look into is the style or design of the spoon.
Most parents opt to go with a spoon made from soft plastic materials as these are soft and easy on the baby's gums as well as their teeth.
As the baby gets older, you can shift to a sterling silver spoon which will make the baby feel more "grown-up" and thereby enjoy feeding time more.
Plastic baby spoons come in a variety of colors and prints which make them more appealing to the babies. These fun and colorful prints may come in the baby's favorite character, animal or shapes.
Some also have number and alphabet prints which can help the baby learn basic numbers and letters of the alphabet as he eats.