Sizes of Car Audio Speakers
Figuring out the car audio speaker sizes is not as difficult as it seems. Many have opening sizes ranging from 3 to 6.75 inches. Some oval types have dimensions of 4 x 6, 5 x 7 or 6 x 9 inches.
Overview
Although sold in different styles, most are either oval or circle. Every measurement is conducted from the outer diameter. The depth is also measured. The depth is the same as the thickness. Do not forget to measure this if getting new units.
How to Get the Right Speakers
Once you find the speaker hole, remove it from the opening. Take off the screws and remove the object from the frame. Measure the opening and the distance between the holes. You can also find the specs in your car manual. Car shops can also provide you with the right information.
If you are unable to measure the opening of the speaker, just take them when you go shopping for a replacement. The salesperson will find one of similar size.
Budget and Testing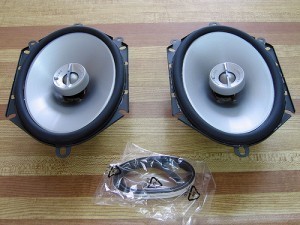 When checking out car audio speaker sizes, budget will always be a factor. Fortunately, many of these are sold cheaply nowadays. You can find several of these cost effective products online.
When you do find a set, ask the salesperson to set it up on a radio like the one your car uses. When you find a set you like, make sure to play your own CDs. This way you will know exactly how it sounds.
Make sure the package includes the following: warranty, installation instructions, owner's manual and speaker wire. The grille and screws must also be included.
Coaxial Models
Different types exist, but the coaxial types are the best options. The coaxial is made up of a couple of speakers. One handles highs and the other mid-range/mid-bass frequencies.
Other Considerations
There are so many types being sold today that finding the right one can be difficult. If you are not sure what to buy, you can always check out the reviews online. You can also use the web to compare the prices of these items. High price does not always mean the best quality. Use your own judgment when it comes to sound quality.
As these facts show, it is quite easy to find the car audio speaker sizes. In most cases, you just have to read the manual. Even if you have lost it, making the measurements is easy to do.