Sewing Machine Dimensions
Today's sewing machines are more feature packed than their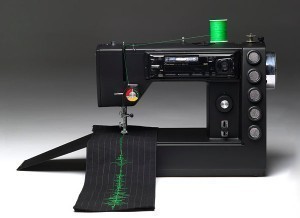 predecessors. The following illustrates the characteristics of some of the current models.
Sewing Machine Dimensions: Brother CS6000I
The Brother CS6000I measures 9-3/5 by 9-3/4 by 12-1/2 inches. It has an LCD display for choosing the stitch type. There are 60 stitches built in. Among them are quilting stitches, decorative, mending, quilting, garment and many more. There are 7 styles of auto sizing buttonholes. The machine has a dial for adjusting the thread tension.
The unit can be operated by using the foot control or not. There are also functions for stop, start and reverse. It has an auto needle threader and a drop in bobbin system. Also included are darning and buttonhole foot.
Other features include a quilt guide, over-casting foot, monogramming foot, walking foot and zigzag foot. The walking foot can be used for working on multiple layers. The quilt guide can be used for spacing quilt lines.
Sewing Machine Dimensions: Brother LS2125I
The LS2125I measures 15 by 6 by 11-3/4 inches. The unit is ideal for scrapbooking, crafting and some basic sewing. The LS2125I comes with ten built in stitches. Each one has several functions. There is also an auto bobbin winder as well as a 4 step buttonholer.
The LS2125I also features a snap on presser feet with buttonhole, zipper and button sewing options. There are also presets for stitch length, width and the needle positions. The built in tension control also allows for stitching on most fabric types. There is also electronic speed control included.
Sewing Machine Dimensions: Brother XL2600I
The Brother XL2600I measures 12-1/4 by 7-3/4 by 9-3/5 inches. There are 26 built in stitches, including heirloom, blind-hem, quilting, garment and stretch. There are also accessories included such as foot control, needle pack and power cord. Other extras include bobbins, twin needle, screwdriver and a spool pin.
There is also an automatic threader and a thread cutter too. The XL2600I also has a 1 step automatic buttonholer and stitch balancer. The width and length can be adjusted. The unit can also be converted from freearm to flatbed. The instruction manual is in Spanish and English.
Sewing Machine Dimensions: Michley LSS-202 Lil' Sew & Sew
The Michley LSS-202 Lil' Sew & Sew measures 7-2/3 by 4-1/2 by 8-2/7 inches. The sewing machine can be used on various fabrics including denim and silk. There is a top thread in bobbin as well as an auto thread rewind.
There is an on/off button and controls for changing the speed from high to low. One can select from either the foot pedal or hand switch. The bundled accessories include a needle, a foot pedal and the threader. It utilizes a DC 6 v power. The unit can also handle full sized spools. The machine can also run on four AA batteries.
The sewing machine dimensions and specs vary, some packed with more features than others. Whatever your needs are, it's very likely that there is a sewing machine out there that can meet your requirements.