Portable Generator Dimensions
Today's portable generators are powerful enough to handle various appliances.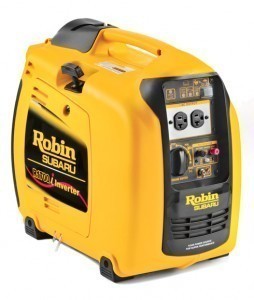 They can also be used when tailgating or camping. Below are the specs of some modern generators.
Portable Generator Dimensions: Honeywell HW2000i
The Honeywell HW2000i measures 22 x 20 x 11 inches and weighs 62 lbs. It has a four stroke engine with 2000 watt output. The noise level is 62db (7 meters). The generator has a run time of five hours at 50% load. It has a 1.5 gallon fuel tank and has 120 volts of power.
The Honeywell HW2000i is an inverter generator so it works quietly and cleanly. An indicator light is built in to signify that it is running. When the oil is low the generator will shut down. There is also an overload indicator built in.
Portable Generator Dimensions: ETQ TG32P12
The ETQ TG32P12 measures 25.5 x 21.0 x 19.5 inches and weighs 106 lbs. The ETQ TG32P12 generator has a maximum of 4000 watts. It also has an ETQ 7HP 4 stroke air cooled OHV engine. The fuel tank capacity is four gallons providing 13 hours running time. It is less than 68 db at over 21 ft.
The generator also has 125-volt 14A ground fault circuit interrupter receptacles. At 50% load, the generator can run the TV, refrigerator and other appliances for 13 hours. It features a pull recoil to make starts easier. The generator also uses the ETQ Clean Sine Alternator Technology to lower harmonic distortion.
Portable Generator Dimensions: All Power America APG3014
The All Power America APG3014 generator measures 8.5 x 14.2 x 15.4 inches. The APG3014 2,000 watt unit is driven by a four stroke gas powered generator. The surge is 2,000 watts with 1,400 continuous watts.
The generator can run for 8 and a half hours at 50% load. The noise rating is 68 db. The unit comes with charging cables that can be set right on the panel. There is also a fuel gauge tank included. The generator has the power to run a refrigerator during a power failure.
Portable Generator Dimensions: ETQ TG72K12
The ETQ TG72K12 measures 32.87 x 22.24 x 23.82 inches. The generator has a 14 horsepower, 420 cc engine that can generate up to 8,200 watts. This is enough to power a TV, water heater and other major appliances for up to 10 hours.
There is a muffler built in to lessen the noise. Also included is the electric start and auto throttle control to help manage the generator.
The fuel tank is good for 6.45 gallons and has the Clean Sine Alternator Technology. The feature reduces the harmonic distortion or THD. By lowering the THD, there is less chance of the generator damaging electronics. There are 2 120 v outlets and also a 240 v outlet included. It also comes with semi-pneumatic foam wheels.
The portable generator dimensions and specs outlined here are not present in all devices. Some have more and others less; you need to do some research to determine which generator is right for your situation.