How High is Mount Kangchenjunga?
Right after Mount K2 and Mount Everest, the third highest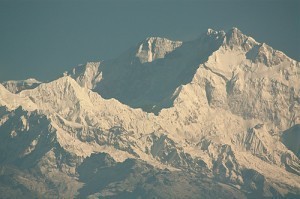 mountain in the world is Mount Kangchenjunga. If translated, its name means 'The Five Treasures of Snows.' In the local Limbu language, it is referred to as SewaLungma, which is sacred in the religion called Kirant. It is located in the countries of Nepal and India. For a better understanding of this place, it is good to know the height of Mount Kangchenjunga.
The Size of Mount Kangchenjunga
How high is Mount Kangchenjunga? Ranked 3rd all over the world in terms of height, Mount Kangchenjunga stands 28,169 feet or 8,586 meters high. In terms of prominence, it ranks 29th overall, which measures 12,867 feet or 3,922 meters. It was assumed as the highest mountain worldwide until 1852.
Additional Facts and Other Important Details
Mount Kangchenjunga has numerous alternative spellings including Kangchanfanga, Kachendzonga and Kangchen Dzo-nga. It has five peaks, one of which is Kangbachen, which measures 25,925 feet or 7,903 meters high. The second one is named Kangchenjunga South, which stands 27,867 feet or 8,494 meters high. The third peak is referred to as Kangchenjunga Central, which has a height of 27,828 feet or 8,482 meters. The fourth peak is called Yalung Kang or Kangchenjunga West, the height of which is 27,904 feet or 8,505 meters. The last one is named Kangchenjunga Main, which stands at 28,169 feet or 8,586 meters high.
British mountaineers George Band and Joe Brown did the very first successful ascent on this mountain on May 25, 1955. Tony Streather and Norman Hardie closely followed as they arrived on the mountain's summit the next day. Tom Mackinnon, Neil Mather, John Angelo Jackson, Charles Evans and John Clegg were also part of the team. A total six camps were made above the base camp during the very first successful ascent expedition.
After the very first successful attempt, other notable ascents followed. In 1973, a Japanese expedition led by Takeo Matsuda and Yutaka Ageta reached the top of Yalung Kang or Kangchenjunga West via the SW Ridge. In 1977, Colonel Narinder Kumar led an Indian Army team to complete the northeast spur ridge of the Kangchenjunga Mountain. In 1983, Pierre Beghin completed the very first solo ascent even without the aid of extra oxygen.
In January 1986, Polish climbers Jerzy Kukuczka and Krzysztof finished the very first ascent during the winter season. In 1998, a British climber named Ginette Harrison became the very first woman to reach the mountain's summit. Austrian mountaineer Gerlinde Kaltenbrunner followed her in 2006, who became the second woman to reach Mount Kangchenjunga's summit.