One of the luxury hotels situated at Dubai in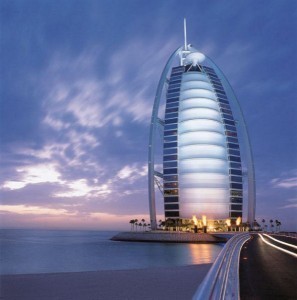 United Arab Emirates, Burj al-Arab is the world's second tallest hotel. The construction of this structure started in 1994 and it was completed in 2000. The design of the building is similar with a dhow's sail. The owner of the hotel spent $650 million for the construction of the building. To know more about this establishment, let us look at Burj al-Arab dimensions.
The Dimensions of Burj al-Arab
What are the dimensions of Burj al-Arab? This luxury hotel stands on a 920 feet- artificial island. A private curving bridge connects the hospitality service provider to the mainland. The height of the hotel from the base of the artificial island to the spire or the antenna is 1,060 feet. From the base of the establishment to the roof, the hotel's height is 690 feet. The height of the establishment from the base to the top floor is 660 feet. The hotel has a floor area of 111,500 square meters and it has 60 floors. For the convenience of visitors, the establishment provides 18 elevators.
Additional Information and Other Important Details
The hospitality service provider has 202 spacious duplex suites, which have a total area of 170 to 178 square meters each. In terms of dining, visitors have nothing to worry because it features six popular restaurants including Al Muntaha and Al Mahara. Al Muntaha is situated 660 feet above one of the popular gulfs in the world, the Persian Gulf. On the other hand, Al Mahara, voted one of the top 10 restaurants in the world is known for its attractive and large seawater aquarium.
Aside from restaurants, the place also features several fully equipped and world-class banqueting and conference rooms. The butler service in the hotel is efficient and it is a round-the-clock service. For the relaxation of everyone, the hospitality service provider features the Assawan Spa and Health Club. Moreover, visitors have unlimited access to one of the interesting areas in the hotel, the Wild Wadi Waterpark. In addition to the waterpark, the place has infinity pools.
To go to the other tourist destinations nearby, the hospitality service provider offers scenic tours and helicopter transfers to visitors. Some of the automobiles that tourists can rent are Rolls Royce, Aston Martin, Lamborghini and BMW. In addition to this, they can also avail of the yacht charter service offered by the Burj al-Arab hotel. The service allows them to go to nearby islands and look at the waters of the Persian Gulf.