Hotel Bel-Air is located along Stone Canyon Road, which is north of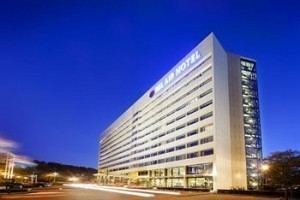 Sunset Boulevard, in Los Angeles, California. It is one of the best mission style luxury hotels in the state. It opened its doors to the public in 1946. From that time on it has served many notable guests including actors, dignitaries, heads of state, and many other celebrities. Who would ever think that the old office space that was originally built on the site would become one of the best hotels in Los Angeles?
Fast Facts
Here are some fast facts about this luxury boutique hotel in Los Angeles. Hotel Bel-Air covers about 12 garden acres of land. It has 91 residential units to serve the regular influx of guests. A premium guestroom will occupy a space of about 375 square feet. This will include private patios for each premium guestroom and a wood-burning fireplace.
The beautifully landscaped park-like grounds are complementary to the large outdoor pool. The grounds are lavishly decorated with flowers, trees, fountains, and ponds. The ambience here speaks of an exclusive and romantic get away. This simply makes the garden suites all the more attractive and quite enchanting. Add to that the fact that each of the garden rooms is uniquely decorated.
First Impressions
Hotel Bel-Air is one of those hotels in the Los Angeles area that will leave a lasting impression to its guests. It is no small wonder that this hotel usually gets a lot of repeat customers. The relative formality expressed in the hotel's service is most welcome to all guests. The hotel almost becomes a natural choice for celebrants and honeymooners.
Whether you're there for business, gatherings, or even if you're not even staying in the hotel at all, you can't help but be impressed by the unique Bel-Air experience. Both the cocktail bar and the outdoor terrace are cozy expressions akin to the comforts of home.
Facilities
Hotel Bel-Air has top rated facilities and amenities. Hotel services and facilities include a lounge with a live pianist at the keyboard every night, indoor and outdoor restaurant, heated outdoor pool, business center, exercise room, concierge desk, in room massage, laundry and dry cleaning service, a video library, and baby sitting service.
All rooms will basically have complimentary newspapers, air conditioning, DVD player, flat panel TV, bathrobes, bathroom phone and scale, cable TV, clock radio, desks, climate control, in room safe, a mini-bar, patio, ironing board, and hypo-allergenic bedding.
Room Rates
Prices in Hotel Bel-Air range from about $500 or $600 for a double and $800 to about $3,700 for a suite. Of course as improvements to services and facilities are made room rates may change accordingly.