Dredge or dredging equipment sizes are diverse, as there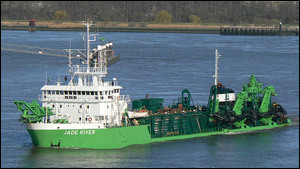 are several kinds of equipment that fall into this category. The following specifications are for the hopper dredger.
Hopper Dredger
This is a boat that gathers sediment and puts in on the hopper, an area made for the sediments. The following specs are for the
Charlemagne hopper dredger.
This hopper dredger is 101.3 m long. The length between perpendiculars is 90 m. The molded depth is 9.2 m and the molded breadth is 20.8 m. The mean molded draught is 7.15 m. The hopper dredger has the dredging mark at 8.5 m.
The capacity is 10,200 tons. There is a deckhouse that can hold up to 15 people. The hopper itself measures 39.9 m long by 11.2 m wide. The capacity is 5,000 sq m. The Charlemagne has a pump powered by a 1,700kW electric motor. The suction tube connecting the vessel and the head has a 700 mm diameter. The tube dimensions allow it to dredge 60 m under the waterline.
Dumping Hopper
The vessel is 45.66 m / 150 feet long while the beam measures 10.36 m / 43 feet. The forward lightship draft is 2.40 m / 7.9 feet and the load line draft is 4.60 m / 15 feet. The vessel weighs 628 tons.
The dredging crane is Priestman Lion HD350 while the maximum dredging depth is 17 m / 56 feet. The mud grab capacity is 2.20 cubic meters / 2.88 cubic yards while the silt / sand grab capacity is 1.20 cubic meters / 1.57 cubic yards. The hopper has a capacity of 600 tons. The hull is made of steel.
Other Types of Dredging Equipment
The trailer suction hopper dredger (TSHD) is a dredger connected to a ship that traverses on a predetermined path. This hopper is often used in canals, open waters and rivers. The clamshell dredger works with a clamshell bucket and utilized with many kinds of earth moving machinery.
The cutter suction dredger is employed for large scale construction work. This dredger is stationary and releases material by way of a pipeline. It is made for heavy duty and continuous use.
A study of different dredging equipment sizes will show that other kinds are available. These include the submersible pump, hydraulic dredgers, suction and reclamation dredgers. There are also barge unloading dredgers available. They are used to transport material to the shore.