A dough blender is a baking tool used to thoroughly mix in butter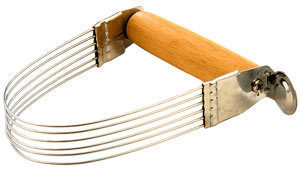 into your flour. It is shaped like a horseshoe with a handle on top. It is the U-shaped bottom part that you actually use to blend the mixture into one perfect dough.
Dough blender sizes differ from manufacturer to manufacturer; and the amount of dough that you will be working on. The sizes are likewise determined whether the dough blender is manual or electrical. Smaller sizes are ideal for home use while bigger dimensions are recommended for industrial use.
Different sizes for this baking tool include 5 and ½ inches x 4 and ¾ inches x 1 and ¾ inches for the U-shaped dough blender and 920 millimeters x 495 millimeters x 1,200 millimeters for an electric dough blender.
U-Shaped Dough Blender
The U-shaped dough blender is easy to use but requires a bit of pressure as you try to cut the butter to thoroughly mix it into the flour. Generally, there are five blades in this manual blender and you sort of make a rocking motion as you incorporate the butter into the flour.
The best part about this blender is that it is not only good for blending dough but you can also use this to chop or crush nuts, dried fruits and also chocolate.
Most of these types of blenders are safe for cleaning in the dishwasher.
Electric Dough Blender
An electric dough blender on the other hand also has several functions apart from blending flour and butter together. Depending on the brand and the specifications of your electric dough blender, this one can also help you knead dough after you have incorporated the flour and butter with the mixer/blender option.
This may come with a dual speed option to help you blend your dough faster. Washing and cleaning instructions may differ from one brand and type to the next so it is important to check these first before cleaning out your blender.
Buying Dough Blenders
Whatever type of dough blender you want to get, you can get this in selected online shops. These are offered by general online stores that offer a multitude of products, from home essentials to fashion items to cooking and baking equipment.
The prices may vary from one shop to the next so it is always a good idea to scout around first for several brands and types before purchasing your dough blender. This will help you zero-in on the exact blender that you need at a price that is the most affordable.