T-shirts are sized differently. The sizes vary from country to country. Ladies crop tops are also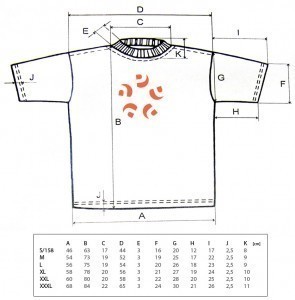 sized differently from the regulars. Adult sizes are also different from children's. T-shirt dimensions may also vary from manufacturer to manufacturer. As a basic rule in determining your t-shirt size, you need to know what defines a perfect fit for you.
The Perfect Fit
T-shirt sizes are determined by measuring the width and length. To know your size, get one shirt that you feel right for your body. If it fits perfectly and comfortably to your body, it's the best guide for you. Lay your shirt on a flat surface and get a tape measure.
The width is the chest measurement. It is measured across the shirt's body, just below the armpits. The length, meanwhile, is measured from the top of the shoulder to the bottom.
Due to the difference of sizes according to manufacturers, you need to understand that t-shirt sizes are merely approximations. There may be at an inch or two difference that you need to be mindful about.
The T-Shirt Sizes
As mentioned, t-shirt sizes vary. You may, however, use the following guide for easy reference (remember that the formula is size = width x length):
For standard adult size, Small is about 20 inches x 28.5 inches; Medium is 21 inches x 29 inches; Large is 22 inches x 30 inches; X-L or Extra-Large is 23 inches x 31 inches; and XX-L is 24 inches x 32 inches.
For women's crop tops, the size measurement varies. Small is 16.5 inches x 19 inches; Medium is 17.5 inches x 19.5 inches; Large is 18.5 inches x 20.5 inches; X-Large is 19.5 inches x 21.5 inches; and XX-Large is 20.5 inches x 23 inches.
For children's t-shirts, sizes are not determined by Small, Medium, Large but by even numbers. Size 2 is 12.5 inches x 16 inches; Size 4 is 14 inches x 18 inches; Size 6 is 15 inches x 19 inches; Size 8 is 16 inches x 21 inches; Size 10 is 17 inches x 22.5 inches; Size 12 is 18 inches x 24 inches; Size 14 is 19 inches x 24.5 inches.
Buying your T-Shirt
When choosing your t-shirt, you must be very careful. A bad-fitting shirt is a waste of money. It pays to know your body fit to be able to get the best-fitting shirt. If you have the opportunity, fit your t-shirt before paying for it. That's the best way to go.