There are many different shovel sizes because they are used in so many way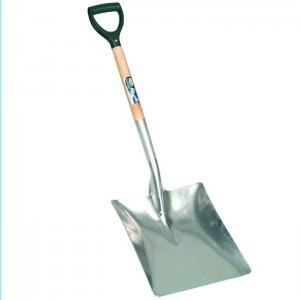 s, be it in agriculture or in construction work. Here are some common sizes and when they should be used.
What Shovel Should be Used
For general cleaning up (i.e., shoveling up loose grain and some snow), a 15-1/4 x 19-3/4 inch shovel will do nicely. Some come with a 40' handle which can be made of wood or steel. For more heavy duty work 13-1/2" x 14-1/2" with 27" ash wood / steel handle will be suitable.
When working with stones or coals, a shovel with deep dish tempered steel blade will come in handy. The different shovel sizes means there are other coal shovel types out there. Other sizes are 14-1/2" x 15-1/4" and 13-1/2" x 14-1/2" with a 48" wood handle.
For scooping up mulch and grain, a 10" x 15-1/4" steel blade with a 48" handle will be sufficient. Other sizes are 14-3/4" x 18-3/4", 15-1/4" x 19-3/4", with different handle sizes (36", 29", etc). Also note that some sizes are expressed in numbers (#14, #2, #12 etc).
Some Common Shovel Types
The shovel is generally used for snow, soil, sand and other loose materials. However, the different shovel sizes are only one aspect; there are also many shovel types.
Hand shovels are usually made of steel with wood handles. In some cases the handle is constructed of wood and metal. A T-piece is fastened on the end to help with the grips.
A coal shovel almost always has a flat and wide blade. The sides are turned in deep and the handle is D-shaped. By contrast, the snow shovel has a sideless blade. It curves up and has a long handle. It's used for shoveling and pushing up snow. Most of them are made of plastic but some are metal.
Different shovel sizes also exist for the grain shovel. The handle is typically aluminum. It's connected to a hardwood handle. This tool is light so the grain doesn't get damaged.
The spoon shovel consists of a long bar with an oval blade. It's used mainly for digging narrow areas. The shovels used in gardening are called trowels.
The blades are usually narrow. The roofing shovel is different; it isn't used for digging but more so for taking out shingles. A toy shovel, as the name suggests, is designed for children. They're often used when making sandcastles.
Choosing a Shovel
Start by thinking of what you're going to use it for. If you just need one to clean a bit of snow or grain, an average size will do. Heavy duty work requires larger shovels. Your physical frame is also a factor. Pick a shovel whose size you're comfortable with;
shoveling a lot of snow or dirt can be physically demanding.
If you're still uncertain as to which of the different shovel sizes to use, talk with a customer representative. They'll be more than happy to tell you the size suitable for the task at hand.