Pasta is an all-time favorite dish not just in Italy but also worldwide. There are a lot of things you can do with pasta. Every ingredient imaginable can be paired with it. What's even more exciting is that, you can create a sauce however you want and you can never go wrong.
You can go for a red or white sauce or red and white sauce combined. You can do pork, beef, chicken, seafood, or vegetables. You can make it sweet, spicy, or simply tasty. Anything, really, is possible with pasta.
There are countless pasta recipes that have become part of people's every gastronomic adventure.
The traditional Spaghetti with a meaty tomato sauce is a top favorite. It is one of the main pasta dishes that have produced many different versions. Kids love it sweet and meaty with lots of hotdogs and cheese. Some like it to be heavy on the tomato base, in meaty baked goodness topped with mozzarella cheese. Some choose to put in meatballs instead of ground meat. Then there are still some who like bologna to be the star of the dish.
Pasta Alfredo is quite an interesting white sauce pasta dish that a lot of people truly love. It is usually heavy with ham or bacon and different cheeses, depending on the preference of those cooking and eating it.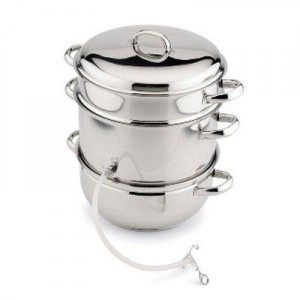 Lasagna is another notable pasta dish. Instead of the usual cooked pasta mixed in with the sauce, lasagna is all about layering. Layers of meaty goodness, delectable sauce, lasagna, and cheese definitely seem oozing with flavorful goodness.
Macaroni and cheese is another hit for kids. The playful macaroni shape is made even more appetizing when it is mixed with a cheesy sauce that nobody, kids and adults alike, could probably resist.
Pasta Cooking in a Breeze
For those who also want to try creating their very own pasta dish or just adapting what are already out there, it is important that you know the key to cooking pasta without fuzz. That, definitely, lies on the kitchen utensils you have in your kitchen.
The introduction of mated colanders has been a hit among many cook experts around the world. It made pasta cooking easier and simpler.
A mated colander is simply a pot with holes at the bottom. Mated colander sizes vary, depending on the stock pot or boiling pot you are going to use for cooking your pasta. The idea is to give you an easier time draining off pasta fluids when your pasta is already al dente. There are 5-quart, 7-quart, 12-quart, and 16-quart mated colanders available among others. Usually, they come in as a set with the boiling pot. In case they do not, you just need to make sure that your mated colander is slightly smaller than the boiling pot.