Coilover Springs Size Chart
Coilover spring size charts will give varying figures,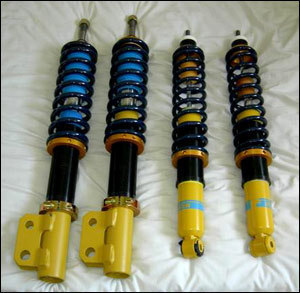 and you should check the car manual to find the right size. There are many springs that measure 2.5" x 7", but your car may require something different.
How to Install Front Coilover Springs
Required Tools:
Breaker bar
Ratchet/socket set
5 mm hex nut
Spring compressor
Jack stands
Jack
Step 1

Put the jacks beneath the car. Take out the front wheels and set them aside.
Step 2

Take out the bolt on the damper fork (14 mm). Take out the bolt at the bottom (17 mm). Remove the fork.
Step 3

Open the hood and take out the two 14 mm bolts. These will be on the spring assembly. These should be on the bump below the hood. These are over the wheels. Take out the spring assembly.
Step 4

After disassembling the assembly, take off the components that will be used for the new coilover. Don't forget to use the spring compressor to keep the pressure from the springs. This should be done no matter what the coilover spring sizes are.
Step 5

Put the new coilover components together utilizing these parts (with
some kits, it won't be needed).
Step 6

Put in the new coilover springs. Replace the bolts. Use the jacks to lift the coilovers as you secure the bolts.
How to Install Rear Coilover Springs
Required Tools:

Same as when installing front coilover springs
Step 1

Raise the car rear and put a jack stand under it. The rear wheels have to be removed.
Step 2

Open the trunk. Use the 14 mm socket and ratchet to take out the two nuts.
Step 3

Take off the spring assembly's lower bolt. Take off the 14 mm bolt attaching it to the trailing arm. Lower the assembly and take it out.
Step 4

Just like with the front coilover, take out the assembly components that will be needed by the new coilover.
Step 5

Put the new coilover springs in place. Make sure that you tighten all the nuts and bolts. Put the wheels on and remove the jack.
Tip: If the original springs are still working, keep them for backup purposes. Do not drive too far with the new set until a four wheel alignment is done for the vehicle. This is for safety reasons.
Whatever the coilover spring size used is, the process of installing them is quite straightforward. If the coilover springs you buy come with any additional instructions, follow it to the letter.