Choosing a baby car seat requires extensive scrutiny. When looking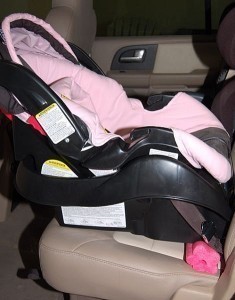 for a unit, the product should not just meet the desired size but also the safety standards.
Baby Car Seat Dimensions: Graco Nautilus 3-in-1 Car Seat
The Graco Nautilus measures 29 x 20 x 36.1 inches and weighs 19 lbs. There is a 5 point harness that can hold kids above a year old (weight range is 20 to 65 lbs). The seat can also be used as a high back booster. It can also be utilized as a backless booster for kids up to 100 lbs.
The unit uses steel for the frame to make it more durable. The seat meets the safety standards of the U.S. Compliance Standard FMVSS 213. The peak Crash Force is double the standards. It has also been tested for the interior temperatures. There is also foam included for comfort.
Baby Car Seat Dimensions: Evenflo Tribute V (Abby II)
The Evenflo Tribute V measures 15 x 16.5 x 29.5 inches and weighs 12.8 lbs. The baby car seat meets the US safety standards and been evaluated with Evenflo's side impact tests. There is a five point harness used for making adjustments.
The Tribute V also comes with two positions, a body and head pillow. The seat can be used for kids 6 to 30 lbs (rear facing). It can also be used forward facing for 20 to 40 lb kids. The system is compatible with the LATCH employed on post 2002 vehicles. The padding can be washed on machines.
Baby Car Seat Dimensions: Safety 1st Alpha Omega Elite
The Safety 1st Alpha Omega Elite measures 19 x 20 x 25.2 inches and weighs 15.6 lbs. it can be utilized as a rear seat for babies and forward facing fitted with a 5 point harness. It can also be converted into a belt positioning booster. The seat is fitted with the ProTech, EPP energy soaking foam.
There is an infant head support and armrests. The seat can be detached and washed. It also comes with a cup holder that can be removed. For rear facing it is good for 5 to 35 lbs; for front facing it is 22 to 40 lbs and for belt positioning booster 40 to 100 lbs.
Baby Car Seat Dimensions: Evenflo Triumph Advance LX
The Evenflo Triumph Advance LX dimensions are 17 x 20 x 29.5 inches and it weighs 21 lbs. The unit comes with the InfiniteSlide harness. This allows for height adjustments by sliding the tabs. There is also no need to re-thread.
The TensionRight knobs were developed to make the adjustments of the five point harness simpler. The recline is multi position and the body pillows can be removed. There are two buckle straps and also an EPP foam liner. A cup holder is also included. This can be folded when not in use. The pad can be removed and cleaned with soap and water.
Finally, baby car seat dimensions should not just meet the requirements of the toddler today. It should also be durable.