The ceiling refers to the upper interior surface of a room. This means the ceiling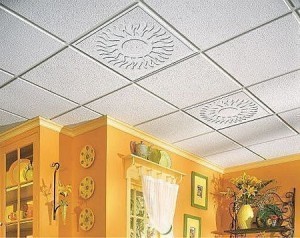 dimensions depend on the size of the room. Some ceilings measure 6 m x 4 m. Others ceilings are 5 x 4 m, and 7 x 4.5 m. Other ceilings measure 224 sq ft. There are ceilings that are 1,000 sq ft.
Classification
The various ceilings are categorized based on their construction. The cathedral ceiling refers to any ceiling that is designed like those in a church. These are usually found in large buildings. The dropped ceiling refers to a surface which is built several feet or a few inches under the structure over it.
The dropped ceiling dimensions vary and so is the design. This type of ceiling may be constructed to give space for piping or HVAC. Other times dropped ceilings are used to make the room aesthetically pleasing.
The barrel shaped or concave ceiling has a round or curved shape. This is done for acoustical or visual reasons. The coffered ceiling on the other hand, is separated into octagonal or square panels. These panels are recessed. Sometimes they are called a lacunar ceiling.
These types also have varied ceiling dimensions. Ceilings that use a curved plaster transition between the ceiling and wall are known as cove ceilings. The name is derived from cove molding.
Decorating Ceilings
While ceilings have practical uses, they can be used to decorate the room as well. Decorative elements used for ceilings include mosaic tiles and fresco painting. One of the benefits of decorating the ceiling is that it is not as susceptible to scratching and other damage that occur on walls.
Many ancient buildings and churches are known for their elaborately decorated ceilings. Perhaps the best example is the ceiling at the Sistine Chapel painted by Michelangelo.
Reminders for Painting the Ceiling
Make sure you measure the whole ceiling area so you can buy enough paint. Before you start, remove the furniture from the room, as this can get messy. You will also have to put plastic sheeting on any objects left in the room.
Again, measurement of the room and ceiling is essential so you can get the right amount of sheeting. Vacuum the ceiling first to get rid of the dust and cobwebs. Between the spray machine and a roller, the roller method is cleaner, but can be arduous.
If you plan on decorating or painting the ceiling, the ceiling dimensions have to be considered carefully. If the ceiling is large, getting an assistant to help you will be necessary.