Full Size Bed Frame Dimensions
The full size bed frame dimensions with a low end is 78 x 58 x 34 (L x W x H). While this is large, it is shorter than the full XL frame. The latter is about 83 inches long.
What are Bed Frames?
Their purpose is to keep mattresses and box springs from the floor. The objective is to produce a comfortable elevation for getting in and out of bed. In the past, footboards and headboards were hooked up to the side rails. These have vertical boards or slats where the mattress is placed. The frame has rendered these boards unnecessary.
How to Get the Right Frame
Before you buy the full size bed frame dimensions, make sure it is appropriate for the bed. The most popular bed sizes are the twin (39 inches by 75 inches), twin extra long (39 inches by 80 inches) and three-quarter (48 inches by 75 inches).
Also widely used are full (53 inches by 75 inches), full extra long (53 inches by 80 inches), queen (60 inches by 80 inches), California
king (72 inches by 84 inches) and king (76 inches by 80 inches).
Materials
Different kinds are used. Wood is used very often for the footboard and the headboard. Some are covered with fabric or leather to make them more enticing. All frames sold today are equipped with robust rails for safety reasons. These are typically made of steel angle iron.
The most basic bed frames are composed of 100% brass or some other metal. To make it more attractive, the piece is adorned with porcelain finials. These are also set in different styles.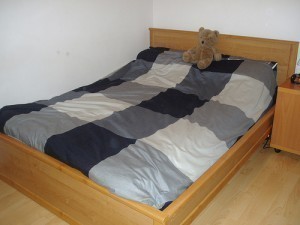 There are Art deco, transitional Victorian and Edwardian. There are also contemporary and traditional styles available. Various other styles are also being construed and developed.
Features
Most have bed bolts, pin-and-hook fastener and plate-and-hook fastener implemented. The knock down fittings are utilized for connecting bed rails, footboards and headboards on the bed post. These components help make it easier to dismantle the frame.
Considerations
Since its role is so important, only buy from trusted brands. Quality frames will not come cheap. But settling for a cheap one will only cost you more in the end. Consider the purchase as an investment.
The full size bed frame dimensions are easy to find in furniture shops. To be sure, check the product specs. The dimensions of the unit will be stated there.