A CD case is essential in keeping your CD's and DVD's in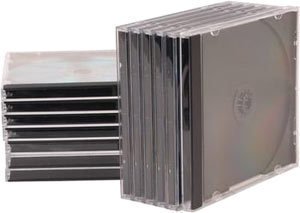 good condition no matter how long you've had them. There are several types of CD cases that you can purchase, from single-CD cases to double and even cases that can hold multiple CD's at a time.
The CD jewel case is the typical case that CD's have always come in since they were first manufactured in 1982. CD case dimensions for this type are approximately 142 millimeters by 125 millimeters by 10 millimeters.
This is about 5.59 inches by 4.92 inches by 0.39 inches. The case is usually transparent both on the front and back sides to accommodate the CD cover and show-off the design as well as some information that could describe what the CD contains.
CD Cover Dimensions
For a CD jewel case with dimensions described above, you need to come-up with the right dimensions for the liner notes as well as the back card to ensure that these will fit into the case without trouble.
For the liner notes or the one that you put right under the front cover of the cases; basic dimensions for these are 120 millimeters by 120 millimeters or approximately 4.72 inches by 4.72 inches.
The liner notes can be like a booklet with several pages for all the information that you want to include about the CD or this can also be a simple two-fold liner note.
For a single liner, the usually size for this is around 242 millimeters by 120 millimeters or about 9.53 inches by 4.72, which you then fold in half to make a leaf page.
For the back card, this is usually around 150 millimeters by 118 millimeters or about 5.9 inches by 4.65 inches.
CD Wallets
There is another type of CD case wherein you can store several CD's at a time. This is called a CD wallet and is usually made from fabric materials, with a zipper to secure the wallet and keep it closed while not in use.
A CD wallet can hold compact discs from ten to fifty and more, depending on the size that you will be getting. There are square CD wallets and there are also rectangular ones and the choice is mostly dependent on your needs and preference.
Both the CD jewel case and the wallets can be easily purchased on the internet. These come in several sizes, allowing you to get one that can hold the number of CD's that you want per case or per wallet.