Candles add an inviting glow and a warm atmosphere to any kind of event.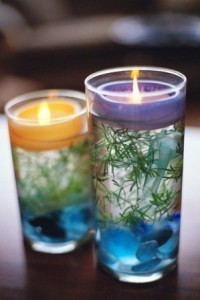 The glow of candlelight is an important factor that can improve the mood and ambience of a specific space. Candles are not as pricey but they can turn an event into an extravagant occasion simply with its warmth.
Candles come in different forms, shapes, sizes, scents, designs, and prices. There is an endless choice of candles that you could use to modify the mood of a specific space or event. Choosing the kind of candle to buy would have to depend on some important factors. First, consider the place you will need it for and why you would need it there. Second, think about the mood that you would like to create by bringing in candles in the equation. Third, consider the size that you will need.
Candles serve many different purposes. There are various occasions and events where candles play a significant role. There are places or areas where candles are always present.
Candles are used in many church ceremonies including weddings, baptisms, and every day mass. It is also used widely during the holidays including Christmas and All Saint's Day. Some homemakers use candles for decoration. Some people use it to relax the mood in their room. Also, no special dinner is ever held without candles. People never miss using candles to set the mood for romance.
As much as uses of candles vary, there is also a wide selection of different candle sizes. A different size is found appropriate for a specific use. There are also different types of candles. There are pillar candles, votive candles, tarts, and in jars. There are also scented candles and unscented candles. There are various candle sizes, which has corresponding burn times and prices.
Pillar Candle Size Chart
A standard candle size chart that you will find is mostly about pillar candles. Pillar candles may come round or square. Their sizes vary according to the available molds. They are decorated and styled differently depending on manufacturers. Their sizes are as follows:
– 3" x 3"
– 3" x 4"
– 3" x 5"
– 3" x 6"
– 3" x 9"
– 4" x 4"
– 4" x 5"
– 4" x 6"
– 4" x 9"
– 6" x 6"
There are other pillar candle sizes that are made available by other manufacturers. Some manufacturers can also create a customized candle size depending on your need. Please remember, however, that pillar candle sizes are made according to the current available molds.