How Big is a Slow Cooker?
Slow cooking is definitely the way to make mouth-watering, tasty food. When you cook your food in even heat for a long time, all the flavors are allowed to come out, making it truly delicious.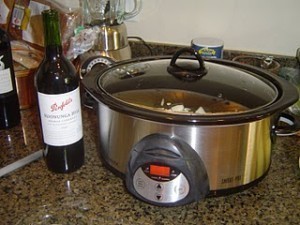 This cooking method has also been very appropriate for the modern day lifestyle. It allows homemakers to be able to perform their duties as cooks, preparing delectable family meals even while they are busy climbing up the corporate ladder.
A slow cooker is so amazing that you just have to dump all the ingredients in, set the heat on low, warm, or high and leave it all there. You do not have to hang around the whole day to make your stews and soups and dips. You can do a slew of other tasks while your delicious recipe is brewing on its own.
Unique Cooking Experience
A slow cooker is truly wonderful to have around. It saves a lot of your precious times without sacrificing your family's appetite. It also comes in varied sizes so you do not have to worry about fitting in your food. If you usually cook for just two, the 3.5-quart slow cooker might be ideal. For a family of five, you can get a 5-quart slow cooker for convenience. If you intend to cook for home parties, you can get the real big ones. For convenience, you can get slow cookers in small, medium, and large so you will have a unit ready for every occasion. The smallest slow cooker model, with a capacity of 16-oz, is ideal for cooking dips.
One of the other amazing things about the slow cooker is the fact that your leftovers will not have to put to waste. You can just leave it there and heat and you are about ready to go.
Slow Cooking Tips
Although a lot of people own a slow cooker in their household nowadays, not everyone knows the right way to use it. Here are some tips and guidelines on how to maximize the purpose of your unit:
* If you are setting heat on high, you have to reduce your cooking time settings. If you want to slow down the cooking process, turn the heat setting to low and you are good to go.
* Most dishes can cook on either high or low heat. But you have to be certain at how long you will need your food to be inside the slow cooker to ensure that it is tender, has reached its maximum texture and flavor potential.
* It is not ideal to convert cook times to less than three hours on high heat or less than seven hours on low heat.