Bike sizes Bianchi are as varied as those of other models. Here are some of the bikes that you may come across if you decide to buy one online.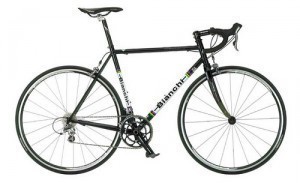 Pista VIA Condotti Steel
The 55cm type is for riders who are 67 to 70 inches tall. The 57cm version is for those who are 70 to 72 inches tall. If you are between 72 to 75 inches, the 59cm is more suitable. The weight is approximately 9.02kg (19.84lbs). Its main features are alloy – 27.2mm RC Sp-600, seat post, Velo VL – 1356 suede cover black saddle and CST 700×23 black with skinside wall for the rear and front tires.
It also has low profile 15mm, sealed bearing, Maddux Track F15 anodized silver rims. There are also a Velo VLT – 035 cotton tape black grips. Depending on the bike sizes Bianchi, it may or may not have VP-A34C headsets, RC AS-006 alloy 3D-forged stem and RC 4002R steel – chrome, 26.0mm clamp.
Via Nirone 7 Xenon 2012 Road Bike
The 50cm option is for riders 64 to 65 inches tall. The 55cm type is for those who are 68 to 69 inches tall. If you are between 72 to 73 inches, you can try the 59cm type. The 63cm variant is for those who are 76 to 79 inches tall. This bike comes with a Bianchi CK water bottle with black alloy cage, Reparto Corse SP-222 seat post (black color with logo Reparto corse).
It also has Selle San Marco new Ponza Power saddle and 19/23-622 Valve 42mm tubes. The tires are Hutchinson Equinox 700 x 23, 33TPI, wire bead, tube type, dual compound, black/ivory. It also comes with Inox 2mm spokes, Fac Michelin racing B100 28F black anodized w/Reparto corse logo front hub.
Camaleonte 2 2011 Hybrid Bike
The 48cm bike is for those who are 65 to 69 inches tall. It weighs 12.kg. The bike is fitted with Spectra SP-222 alloy, Selle Royal VIPER saddle, Spectra regular amber 32-622 tires and stainless black with 4 white spokes. The bike also has a Shimano HB-RM65 32H hub, Reparto corse rims FSA ZS4-custom headsets. The cassette is Fac Michelin Primato 10sp 12-25T. It has Campagnolo Xenon shifters.
Bike sizes Bianchi are accurate in terms of the components. However, the weight will vary. It hinges on what size option is chosen. Some of the newer bikes may be lighter. Get the facts straight before buying.