Bed Dimensions Chart Metric
Choosing the right bed is important in defining the quality of sleeps and relation you will be able to enjoy in your room. From the size down to the design and style, you must ensure that you are getting the perfect bed so as to make your every dollar count.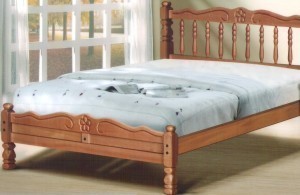 Size Matter
When choosing a bed, size is one of your biggest considerations. The right bed for you is the one that will allow you as much sleeping space as you need but falls within the limits of your space. Yes, you have to consider the amount of available space in your bedroom as much as you would the amount of bed space that you would like to enjoy.
The usual bed dimensions chart can be found in metric system, specifically in inches. You have to understand that different countries may have different interpretations or dimensions for a specific kind of bed. Here is a guideline on US and UK bed sizes:
US Standard
Single – 39" x 75"
Double/Full – 54" x 75"
Twin Extra Long – 39" x 80"
Three Quarter – 48" x 75"
Super Single – 48" x 84"
Full Extra Long – 53" x 80"
Queen – 60" x 80"
California Queen – 60" x 84"
Olympic Queen – 66" x 80"
King – 76" x 80"
California King – 72" x 84"
UK Standard
Toddler bed – 27" x 55"
Small Single – 30" x 72"
Standard Single – 36" x 75"
Prince or Small Double or Three Quarter – 48" x 75"
Standard Double – 54" x 75"
King – 60" x 75"
Super King, also regarded as the "Queen" – 72" x 75"
There are some countries that also have their own versions of bed sizes. To be sure of the size you are getting, make sure to have a tape measure ready while you are shopping. Measuring up is the best way to find the dimensions of the bed you are buying.
The Style and Design
Aside from size, the style and design of the bed also matters a lot. There are different types of bed that are available in the market. Each type has a kind of style that is suitable for every bedroom design. You can choose from various shapes, materials, and colors as well. Beds also come in a variety of finishes that will help you choose one that will easily blend in to all the other things in your room. Make sure that you choose your bed well to make it a really worthy investment that will give you quality sleeps every single time.