The hammock is consisted of cloth panels, a fabric slin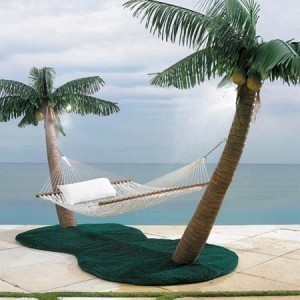 g and ropes that are stretched between two points like posts or trees. It is commonly used for sitting, resting, sleeping and swinging. It has different types, which depend on the materials used in the item. The common types of hammocks are the crocheted hammock, the nylon hammock and the hammock tent. Many homeowners who have spacious gardens and backyards suspend hammocks in their places for relaxation. To know if it will suit the architecture of your house, it is best to know the different hammock sizes.
The Sizes of Hammock
Most manufacturers produce large and extra large hammocks. The usual dimensions of the large item are 210 centimeters x 150 centimeters. On the other hand, the dimensions of the extra large merchandise are 230 centimeters x 165 centimeters. The total length of the items is from 11.8 feet and 13.1 feet. The suspension points' distance should be between 8.2 feet and 8.9 feet.
Additional Information and Other Important Details
Some of the materials that are used in making the merchandise are cotton, polyester and canvas. If you plan to put the hammock indoor then the cotton type is best to use. On the other hand, if you like to suspend the item outside, it is advantageous if you use the merchandise that is made from polyester because it is more durable than cotton.
If you do not have enough space in your garden or porch, then you can buy the portable hammocks. One of the advantages of portable is that the merchandise has spreader bars that can retain the shape of the item. If you are having a hard time looking for portable hammocks, you can purchase the hammock chairs. Travelers and hikers can also bring camping hammocks so that they can have a comfortable sleep.
Hammocks have different styles. The most popular styles are the travel, Venezuelan, Nicaraguan, Brazilian, naval, Mayan and Spreader bar styles. These items can hold a person or persons with a total weight of 250 pounds to 600 pounds.
When setting up hammocks that do not have spreader bars, it is important that these have an optimal angle of 30 degrees when attached to posts or trees. Even if the hammocks can be used for sleeping, it is best that those with back pain as well as joint pain refrain from sleeping on it. It is advantageous to stay in hammocks in a diagonal position.