Puzzles can mean hours of amusement for both kids and adults. Puzzles come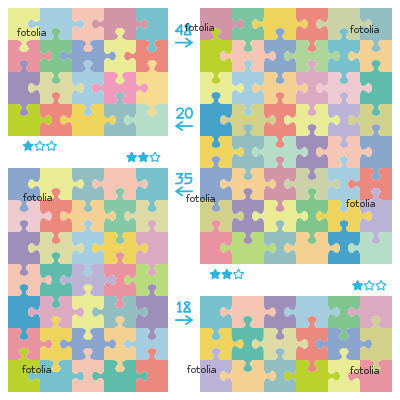 in various forms and shapes, and the number of pieces varies as well.
Puzzle Dimensions: Melissa & Doug Underwater 48-Piece
The Melissa & Doug Underwater 48 piece measures 2 x 3 feet and weighs 3 lbs. This is a child's puzzle (3 years and older). It features colorful illustrations of stunning underwater life. Not only is it a toy, but the puzzle also helps kids develop their hand – eye coordination.
This puzzle helps kids develop their problem solving capability too. When completed, a blue and green ocean floor scene is revealed. The ocean is populated by colorful life forms, including a crab, octopus, coral and fish.
Kids can use the box picture to check and put the pieces together. It is a puzzle the kids can play by themselves or with their playmates. The pieces are constructed from cardboard and are easy to clean up.
Puzzle Dimensions: Melissa & Doug African Plains
The Melissa & Doug African Plains jigsaw puzzle has 24 pieces and measures 15.5" x 11.75". It is designed for kids three years old and above. This puzzle is constructed from solid wood and sports a bright design.
This brilliantly colored puzzle is set in wood trays. The pieces are well designed, so they will retain their new-look appearance even after extensive use. When the puzzle is complete, brilliantly colored safari characters emerge.
The wood pieces interlock very well so it is easy to use. The durable nature of the puzzle means the child can play with it as often as possible without the puzzle breaking apart.
Puzzle Dimensions: Melissa & Doug Safari Floor
This 100 piece puzzle measures 2.9 x 9.3 x 11.7 inches and weighs 3.1 lbs. It is recommended for chidden 6 years and above. This puzzle will provide hours of fun for kids. It will also help develop their matching skills and hand to eye coordination.
The puzzle is colorful, something kids will like. The puzzle pieces are made of strong cardboard. They are 20% thicker than the typical puzzle, so it is more robust. The surface is a breeze to clean up, and it retains its fresh new look no matter how long it is used.
Puzzle Dimensions: Ravensburger Oceanic Wonders
The Ravensburger Oceanic Wonders is a 3000 piece puzzle measuring 48 x 32 x 0.1 inches. The puzzle aims to improve the hand / eye coordination of players. The game also improves people's picture recognition and the motor skills.
The puzzle is constructed from the thickest Kappa cardboard in Germany. The pieces come with a matted finish. This makes it simple to use. The durable makeup means you can play with it all the time. The game can be played by a single individual or by several players.
The puzzle dimensions, particularly the number of pieces, will depend on the age bracket it is aimed at. For those new to puzzles, it is best to start with the simple ones first.