Guinness World Records recognizes the San Alfonso del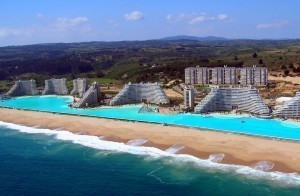 Mar seawater pool as the world's largest pool. It was awarded the title in December 2006. San Alfonso del Mar is a crystal clear work of art in Algarrobo, Chile. It has a total area of 19.77 acres or about eight hectares and is 1,013 meters long. It was awarded as the world's biggest pool upon its completion in 2006.
Milestones
The San Alfonso del Mar seawater pool is an icon in itself. It is an enormous pool that surprisingly is able to maintain its crystalline water day in and day out. It's so huge the world's biggest pool can hold up to 250 million liters. To give you an idea just how large this water pool is, given its capacity, it can hold as much as six thousand swimming pool's worth of water where each pool will be about eight meters long.
Keeping the Water Crystal Clear
Another milestone, as stated earlier, is the pool's characteristic of maintaining its crystal clear waters. It's a huge yet pretty pool given the fact that the contrasts its beauty against that of the nearby Pacific Ocean. The water quality is perfectly maintained using a patented technology from the developers of San Alfonso del Mar.
Another interesting thing to point out is the fact that the water temperature is maintained at an even 26 degrees Celsius even during the middle of winter. It took several years for the owner of Alfonso del Mar, Fernando Fischmann, to find the right technology. It was Mr. Fischmann's dream to build a pool that is both safe and comfortable along with being something extra ordinary.
The motivating factor in creating the world's biggest pool is nothing short of the Pacific Ocean itself. Fernando Fischmann saw the Pacific Ocean as a cold, dangerous, and unclean body of water. It appears that what he wanted was to make a pool that is quite comparable to the ocean's size but a total contrast to its qualities. The patented technology Fischmann found uses 1/100th of the regular chemical amount that is traditionally used to treat pool water.
Getting to San Alfonso del Mar
Here are the directions to get to the world's biggest pool. The resort is located north of Algarrobo and is about 90 kilometers away from Santiago, the capital of Chile. When you reach Santiago, you need to take Route 68 that heads north and exit at Casablanca. From Casablanca continue your travel along the highway that connects Casablanca and Algarrobo. Visitors to the world's biggest pool are seldom disappointed with the place.