There are many ways to dress up a bed. You can choose from a wide variety of bed linens to use as a cover up. Among the available choices, a quilt is one of the best.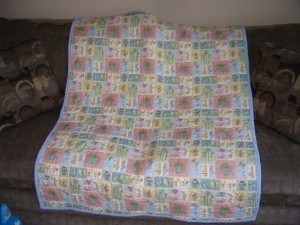 A quilt adds drama and flair to any bed. It can make your bed look regal. It can make your bed look classy and sophisticated. That is, if you are able to find the perfect quilt.
How to Choose the Perfect Quilt
In choosing a quilt, there are four factors to consider.
The most important factor is size. In anything, size matters a lot. When choosing quilt size, you should also refer to the bed size. If you have a Full size bed or a Twin, or a King, you will need the same size of quilt.
The length of the drop is another factor when choosing a quilt. Usually, a King would need a coverlet size quilt, which drops three inches below the mattress. A Queen needs a blanket size quilt, which drops an inch below the box spring. In case the quilt drops not to cover the box spring, a bed skirt is used.
For the third consideration, there is your bed style. You must choose a quilt that is fitted right to the style of your bed. If your bed does not have a footboard, you will need a quilt that drops on all three sides. For a bed with a footboard, you only need a quilt that drops to the left and right sides.
Lastly, you also need to choose your bed linen according to the arrangement of your pillows. Some people like to tuck in their pillows into the quilt. For that purpose, you will need some allowance for the tucking. If you choose to use pillow shams or decorative pillows instead, there will be no need for an allowance of 10 to 18 inches for the pillow tuck.
To find the perfect size that will fit your bed right, you may choose interactive tables found online. Those will ask your need or preference for all the factors mentioned and will calculate the best size of quilt for you. That is in case, you are not able to decide for your self or you have a hard time figuring out what choice to make.
You can buy your quilt from home stores or you can also do your own. Be careful with the size you are making if you choose to customize.