Biking is a fantastic hobby. It is a form of exercise that you can do while seeing sights, while enjoying a ride, while bonding with your family or friends. When you ride a bike, there are lots of adventures that may unfold. What's more, it makes you cover miles without putting forth pollution.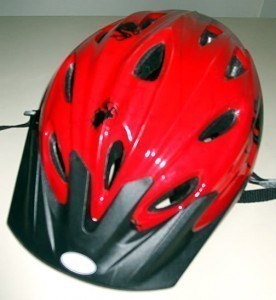 If you are a biking enthusiast that riding is a privilege in many states. In fact, no less than 21 states require that cycling enthusiasts be in a proper gear before riding. That is specifically directed to wearing a helmet. Wear a helmet as you would wear a seatbelt when riding a car. Aside from the mandate of law, it is sensible to wear helmets while riding a bike. This will help keep you protected in all riding conditions.
Bike Helmet Sizes
There are a couple of considerations when shopping for a bike helmet. The number one consideration is the size. Finding the perfect fit is important to be able to exhaust all the benefits of wearing a helmet. That's why you should look at bike helmet sizes and compare them with your actual measurements before actually making the purchase.
To know your size, you must measure the largest portion of your head, which is located one inch above your eyebrows. Take a tape measure that you will place around your head. If you do not have a tape measure, take a strip of cloth and place it around your head. Cut to the point where an end meets another. Measure that strip of cloth with a yard stick or a ruler. Then, examine the following standard sizes:
Extra Small – below 20 inches
Small – 20 to 21.75 inches
Medium — 21.75 to 23.25 inches
Large — 23.25 to 24.75 inches
Extra-Large — above 24.75 inches
One size fits all for men — 21.25 to 24 inches
One size fits all for women — 19.75 to 22.5 inches
It is advisable that you choose a size that is within the range of your measurement. If you head measurement is 24 inches, you will need a bike helmet in Large size. If your measurement falls on the borderline of two different sizes, it is advisable that you choose the smaller size.
The idea of helmets is having that snug fit. Your helmet should fit well into your head. It must not be pulled off at any point during your ride. To further your protection, bike helmets also come with straps, which you should fasten to make sure that it will not push towards your eyes.