A terrace is an area adjacent to the house. In many countries it is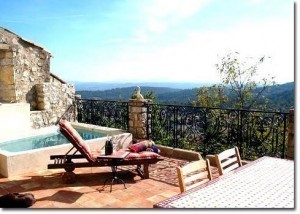 synonymous with balcony. Strictly speaking, the balcony is smaller. The terrace is also considered the same as a porch. Terraces have an open top that faces the sky.
Size of a Terrace
The dimensions of terraces vary. Some are designed like a regular porch and measure 12 x 20 ft or 14 x 20 ft. The terraces in luxury hotels are several square feet much bigger. There are no standard dimensions for terraces. Homeowners and builders have different designs, and this affects the entire layout.
Function and Use
The terrace is extremely versatile. For many people, it is an extension of their homes and used for relaxation. When used for entertaining guests, the terrace will have chairs, sofas, coffee tables and other amenities.
Other terraces are used for gardening. It becomes a place where flowers and plants are raised. In both cases, the size of a terrace is crucial as well as the spacing.
Today it is also common for people to use the terrace for barbecues. When used this way, the place is equipped with the grill, chairs and other accessories typical of a backyard barbecue. The terrace can also be used for sunbathing.
More and more homes are including hot tubs and Jacuzzis in the terrace. In more luxurious homes, it is the place where swimming pools are located.
Designing the Terrace
Given its versatility, one will have many options for designing the area. The following are some general ideas to help you get started with the decorations.
As a rule, you should always start by assessing the size of a terrace. It will determine how much material you can put in. From there, you can work on to the flooring, the seating arrangements and then the finishing touches.
Flooring
The flooring material must be nonslip. It must also be resistant to different kinds of weather. A partial roof terrace can be rained on. Safety should always come first. Maintenance is another issue. Wood requires more upkeep than stone.
Add Plants and Water
Adding plants to the terrace will make it look and feel more comfortable. You can use planters or flower boxes. You can actually design a mini garden in the terrace. You can choose between a flower, herb, vegetable garden, or a little of everything.
For an added sense of tranquility, a hot tub or waterfall will do nicely. You can set up a wall next to the garden terrace and add the waterfall there. If you add a hot tub, make sure there are walls around so you maintain some privacy.
Choosing the Right Furniture
Always choose furniture that matches the terrain. For a nature oriented terrace, choose wooden chairs. A contemporary looking terrace should have steel chairs and tables. Spacing must be considered carefully.
Apart from the size of a terrace, the materials you use will be important. Make sure that it suits the weather in your area so people will be comfortable.