Thanks to Ziploc bags, people with storage problems need not worry about organizing things inside their homes.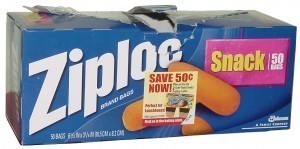 Available in various shapes and sizes, these bags are inexpensive, highly efficient and reusable. Furthermore, they also serve a variety of purposes such as storing snacks, storing sandwiches and many more. In order to understand these storage items better, it is good to know the different Ziploc bag dimensions.
The Dimensions of Ziploc Bags
Ziploc bags are available in various shapes and sizes, depending on the type of container as well as the intended purpose. For non-food storage, there are Ziploc bags that measure 0.61 meter by 0.82 meter or 2 feet by 2.7 feet. For freezer bags, the available capacities include two gallons, one gallon and one quart. Meanwhile, the sandwich bags are available in two different sizes. These are the 6½-inch by 5-7/8-inch bags and the 7-inch by 8-inch bags. If you need bigger bags, you can always rely on Ziploc Big Bags with Double Zipper. The large version measures 1.25-feet by 1.25 feet, the XL version 2-feet by 1.7-feet and the XXL version 2-feet by 2.7-feet.
Additional Facts and Other Interesting Details
Today, Ziploc has been expanded further to include other types of bags and containers aside from those intended for sandwiches. Aside from these, you can also go for other notable product lines such as the twist n' loc containers, freezer bags and expandable bottom bags. For use in microwave ovens, you can try the special zip n' steam bags.
The rights to produce and manufacture the different types of Ziploc bags are owned by S. C. Johnson and Son. It has made extensive efforts to advertise such products even more including television commercials, online ads as well as print advertisements. Its biggest campaign came in 2002, when the company launched a widespread campaign worth more than $50 million. A major part of this campaign was allotted to TV ads, wherein more or less $35 million were spent.
Compared to the traditional Ziploc bags, the newer Ziploc Evolve bag is better because it contains 25 percent less plastic. More importantly, it is produced using a cleaner renewable energy source, specifically wind power. Furthermore, recycled paperboard is used to pack it to support tree conservation. Polyethylene plastic resin is used to manufacture the freezer bag version of Ziploc. Because of this, the bags can store and hold different densities and amounts of food safely. Today, some of its biggest competitors include plasticware products like Hefty bags and Glad bags.