When it comes to choosing bathtubs, there's more to it than just aesthetics. First, you have to consider what bathtub size to get.
There are several bathtub sizes out in the market today and getting the right one is essential especially if you do not want to suddenly find out that the space in your bathroom isn't just big enough or even small enough to fit the bathtub you've picked.
Common Bathtub Sizes
Whatever type of bathtub you get and with whatever features, i.e. whirlpool or air tubs, the following are some of the common sizes bathtubs come in today.
First of all, the standard bathtub size is about 30 inches in width by 60 inches in length by 20 inches in depth. Now, if you're looking for either a wider tub or a longer one or even a deeper one; there are other bathtub sizes that you can find today.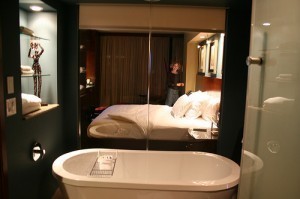 One such wider, longer and deeper bathtub measures approximately 39 inches in width by 58 inches in length by 22 inches in depth.
There are likewise bathtubs that have the same measurements for their widths and lengths, i.e. 60 inches for the length and width and about 19 inches for the depth.
If you have a longer space for the bathtub but do not have that much space for the width, there are bathtubs that measure 72 inches in length by 36 inches in width and usually, these have depths of about 19 inches.
Bathtubs with Stands and Pedestals
There are likewise bathtubs that have stands or pedestals. These types are usually stand-alone which means that you don't have to install them into a dug-out space.
Some of the common sizes for these include 60 inches in length by 31 inches in width by 24.75 inches in depth for the bathtub with stand model.
A longer and slightly wider version for this is 70.5 inches in length by 32.25 inches in width by 24.75 inches in depth.
For the tub with pedestal, you can find this in dimensions of 61 inches in length by 31 inches in width by 24 inches in depth. A longer tub with pedestal measures approximately 66 inches in length with the same width of 31 inches and depth of 24 inches.
When choosing bathtub sizes, selecting the right depth is also important. There are depths that do not let you soak your entire body as fully as others.
Available depths other than the ones mentioned above are 17 inches, 18.25 inches, 19 and 19.5 inches as well as 23.5, 24.75 and 25.25 inches.