Before the baby comes out, it's important to have everything ready so you won't get into panic mode; buying and arranging things at the last minute.
From the baby bag that you will be taking with you to the hospital for the delivery, to the baby nursery to his first clothes; everything needs to be arranged beforehand.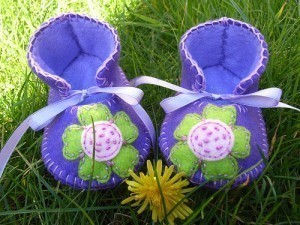 What types of clothing items will your newborn need anyway?
For starters, the baby needs to be warm during his first few weeks as he still needs to get used to the climate outside his mother's womb. To keep him snug and warm he will need a cap, mitts and booties.
Baby Bootie Size Chart
Understandably, you may be a bit confused as to what size to get for your baby's booties, caps and mitts. Thankfully, there is a baby bootie size chart that you can find online.
This can help you determine sizes for your baby especially if you plan on getting several different sizes just to have a few back-ups on hand.
Sizes are given in lengths and the corresponding age of the baby the size is ideal for. For example, a Newborn size would be about eight centimeters long; while a size 0 would be about nine and one-half centimeters in length. Size 0 is recommended for babies from 0 to 3 months old.
Size 1 is approximately ten and one-half centimeters long and is ideal for babies from 3 up to 6 months of age; and a size 2 is around eleven and one-half centimeters in length. This size is recommended for babies from 6 to 12 months of age.
Do-It-Yourself Baby Booties
If you would much rather make baby booties yourself, there are several sites online that can provide you with step-by-step instructions on how to knit baby booties.
These guides not only give you detailed instructions on the knitting process but likewise provide you with information on the right type of yarns to use, the appropriate knitting needles and the type of stitches that you will be using for the bootie-making process.
Some of the knitting guides even have pictures and videos to provide images for the steps so you can readily check if you're still on track.
There are also guides that provide you with some of the most common terms used in knitting so you won't get lost in the maze of new terminologies as you walk your way through the process of knitting.
This is especially useful for moms who will be knitting for the first time.