Also known as a cask, the barrel actually means wooden vessels that can be moved using one's bare hands.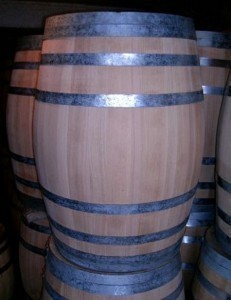 It has many uses – from storing water and other things to aging liquor. That is why to accommodate its various uses, there are different barrel dimensions for these things.
Oil Barrel:
When we speak of the oil barrel, this would refer to the storage of either the crude oil or any other petroleum product. The standard barrel for this is around 42 US gallons. This is equivalent to about 158.0987 L or 34.972 imperial UK gallons (a measurement based from early measurements used in Pennsylvania oil fields which used a wine measure of English known as the tierce). Prior to that, an earlier measurement for these things is set at about 40 US gallons with 33.3 imp gal or 151.4 L.
Wine Barrel:
As you may know, fermentation of some wine is actually done in barrels. Others are fermented in wooden tanks. These wine barrels are typically made from oak or redwood in the olden days. At present, the redwood material is not commonly used in making the barrels.
Although mainly referred to as a wine barrel, this is actually used to store different liquors aside from wine. These include the usual favorites of most: Port, brandy, sherry and whiskey.
Barrels or casks actually come in numerous sizes depending on the types of wine barrel which not only include the size but also the capacity of the barrels.
Some of the common varieties include: the Burgundy Barrel and the Bordeaux Barrel. For the Burgundy Barrel, its actual barrel dimensions are: 23 inches in its diameter for its barrel heads. The Bordeaux Barrel, on the other hand, is about 21.5 inches.
Other types of the wine barrel include the Hogshead Barrel and the Whiskey Barrel. For the former, a good dimension to remember is about 2.5 inches (or 70mm) x 2 inches (or 50 mm) in diameter. The latter can be bought at around 53 gallons, 36 inches by 21 inches in diameter.
When buying a US beer barrel, bear in mind that you are actually purchasing about 117.347765 liters.
Water Barrels:
Barrels made by coopers (a term which refers to those who make the barrels) to store water seem to have the standard size aforementioned. This is mainly used to harvest rainwater.
For the different types or kinds of barrels available, you may say that it may actually depend on chosen barrel dimensions set by the ones who make them that may determine the size of the finished product or it may be based on earlier standards set for the dimensions that would be followed.