The standard bar counter size is as follows. The depth is 18 to 24 inches.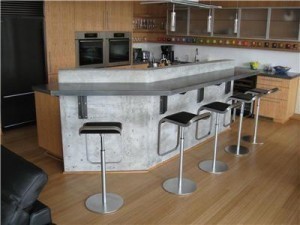 The bottom where the bartender performs their duties is 22 to 25 inches. The total depth is anywhere from 28 to 38 inches. The entire height of the bar is about 42 to 45 inches. Most however, prefer to use a bar counter 42 inches high.
Other Bar Counter Facts and Figures
To fit the counter stool the bar height is about 36 inches but no more than 38 inches. The typical bottom bar does not get higher than 30 inches. The bar counter size with respect to the back bar depth is 24 to 30 inches.
The height is no less than 36 inches but no more than 42 inches. The depth under the bar top is 6 to 7 inches. This is for the chairs. For the footrest, it is about 7 inches off the floor. In some cases it is 9 inches from the floor. Its distance from the bar is about 6 to 8 inches. Others opt for a 9 inch distance.
Design Ideas for Bar Counters
A mosaic pattern for the countertop can be made with one inch porcelain tiles. Regardless of the bar counter size, you can also opt for ceramic tiles. Porcelain is more durable. But if taken care of, ceramic tiles will last a long time as well.
A mosaic pattern can be used to make the design on the plywood. Now you just have to put on the tiles. Use thinset mortar for outdoor use and Weldbond adhesives if the bar counter is for indoors.
Wood Countertops
Many prefer to use wood because it is simple yet elegant. There are many types of wood to choose from, including maple, oak, cherry and many more. To shield the surface you have to apply some polyurethane. This will protect the wood no matter how large the bar counter is.
If you're the creative type, you can make designs on the wood. If you want the best protection for the countertop, use acrylic or glass sheet. There are many tiling options for you. The best options are the 12 inch ceramic or porcelain tiles, but there are other materials available.
The bar counter size should never be discounted if you are adding tiles. If the bar is more than a foot deep, apply four inch tiles by the bottom and top of the 12 inch tiles.