Balikbayan Box Dimensions
A balikbayan box refers to a box made from cardboard that is used to send packages from overseas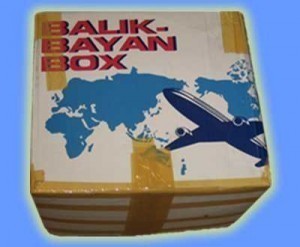 Filipino workers to their families and friends in the Philippines. This box is also used by the workers to pack things for their loved ones and they bring this with them when they return to the country. Some of the items that are commonly stored in the box are canned goods, toiletries, electronics, clothes as well as toys. To send it to the Philippines, it should follow the regulations concerning the dimensions of the box. Below are the standard Balikbayan box dimensions.
Dimensions
There are three types of balikbayan box, namely the medium box, the large or the regular box and the extra large box. The width and height of the medium box is 18 inches while the depth is 16 inches. The standard width of the large box has a width and depth of 18 inches while the height is 24 inches. The extra large box has a width of width and height of 24 inches while its depth is 18 inches.
Additional Information and Other Important Details
One of the primary reasons why overseas Filipino workers send balikbayan boxes to their friends and loved ones is because it is economic. If the workers will send the items individually, the shipment will cost them too much. Unlike when they send all the items at once, they can save money for the shipping of the items. The delivery of the boxes may take several weeks or a month.
Another reason for sending the boxes is for the workers to keep in touch with their families. During Christmases many Filipino overseas workers send packages to their loved ones to let them feel that they think of them even if they are not present with their families for the holiday. According to reports, approximately 300,000 balikbayan boxes are sent to the Philippines every year from the United States alone.
Balikbayan boxes are important to the families of the workers because overseas Filipino laborers usually spend months to gather items that they will include in the box. In most instances, the workers wait for shopping malls to give discounts to customers to buy loads of merchandises that they will add to the box. Other Filipinos abroad include used clothes from their friends in the box. The shipping rates for the boxes usually range from $50 to $100. The rates vary on the location where the package will be shipped as well as on the size of the box.