Occupying 2,172,000 square kilometers, the Bay of Bengal is the world's biggest bay by area. Forming the northeast portion of the Indian Ocean, the triangular bay exists within the borders of Bangladesh, India, Sri Lanka, and Burma. Several of India's and Bangladesh's major rivers flow into the bay from west to east. These include the Ganges, Meghna, and Brahmaputra rivers in the north, and the Mahanadi, Godavari, Krishna, Irrawaddy, and Kaveri (or Cauvery) rivers in the south.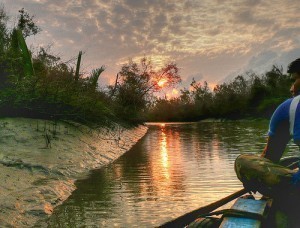 The Cooum River is the shortest classified river draining into the Bay of Bengal, at an area of 64 kilometers (40 miles). The Brahmaputra River, the 28th longest river on Earth at 2,948 kilometers (1,832 miles), empties into the bay and flows through India, the People's Republic of China, and Bangladesh. Formed at the Ganges, Meghna and Brahmaputra's river delta is the Sundarbans, the world's largest single block of mangrove forest. Another river flowing into the bay, Myanmar's Ayeyarwady River, used to have its own thick mangrove forest as well.
The Bay of Bengal plays host to many of Bangladesh and India's major ports. Among the ports from Bangladesh are Chittagong and the Port of Mongla. The bay's Indian ports include Chennai (formerly known as Madras), Kakinada, Kolkata (formerly known as Calcutta), Paradip, Pondicherry, Trincomalee, and Vishakhapatnam. Another significant port in the bay is Myanmar's former capital and largest city, Yangon. Several beaches located along the Bay of Bengal include Cox's Bazar, Kuakata, and St. Martin's Island of Bangladesh. The beaches of India are Bakkhali, Digha, Chandipur, Puri, Waltair, and Marina Beach. Burma has only a single beach, Ngapali, as does Sri Lanka with its beach Arugram.
There are a number of islands in the Bay of Bengal. These include the island groups Andaman, Nicobar and Mergui. Along with Cheduba and other northeast islands off the coast of Burma, they are noteworthy for a chain of occasionally active volcanoes. The Andaman Islands' main archipelago is Great Andaman. The Andaman and Nicobar island groups are composed of 572 islands, but only 6.5 % of them (37 islands) are inhabited.
The Bay of Bengal is listed among the 64 largest marine ecosystems in the world. The sea creatures endemic to the bay include the barracuda, the marlin, the yellowfin tuna, the skipjack tuna, Bryde's whale, the Indo-Pacific humpbacked dolphin, the Pantropical spotted dolphin, the spinner dolphin, and the bottle nose dolphin. The Irrawaddy dolphin can be located in the warmer and shallower waters. The bay is also home to the endangered Olive Ridley sea turtle, which survives due to the efforts of the Gahirmatha Marine Wildlife Sanctuary. Meanwhile, the Great Nicobar Biosphere Reserve shelters other animals such as the Malayan box turtle, the Leatherback Sea Turtle, and the saltwater crocodile.