An air traffic control tower is a building in an airport,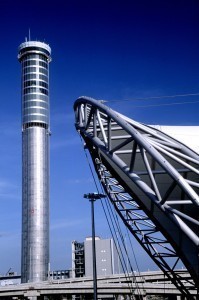 which features ground based controllers used for directing aircraft movement around and on the airport. Generally, the towers are higher than the other structure in an airport so that controllers can have an extensive view of aircrafts. Some of the important features of the tower are communication radios, a telephone system, a light gun and a cab glass. Other special equipment featured in such tower are the computerized meterological information, briefing and flight data systems. Below is a brief profile of the tallest air traffic control tower in the world.
The Highest and the Tallest Air Traffic Control Towers
The tallest free-standing control tower in the world is the tower of the Suvarnabhumi Airport in Thailand. The control tower measures 132.2 meters above sea level. The total space occupied by the tower is 2,600 square meters. It is found 25 kilometers from the eastern part of Bangkok. The control tower features advance communication systems that are used to manage and monitor 76 flights in an hour.
The tower was developed by Siam Synthec-Unique Engineering consortium and the Aeronautical Radio of Thailand Co. The budget allotted for the construction of the tower in 2004 amounted to 574.8 million baht. One of the reasons why the management of the airport decided to construct the tallest control towers in the world is to attract tourists in the country.
The highest air traffic control tower in the world is the Vancouver Harbor Control Tower. The structure is found on top of Granville Square at the downtown of Vancouver in Canada. The Granville Square has a height of 142 meters. The tower was constructed in 1973. It is considered as the Canada's busiest control tower.
The Westcoast Air and the Harbour Air are two floatplane operators in the tower. These operators provide services to passengers who like to travel to Vancouver Island. Other operators in the control tower are Whistler Air, Kenmore Air Services and Saltspring Air.
Additional Information and Other Important Details
Airports need the tower to ensure the safety of passengers. Medium size airports that have air traffic control towers usually do not have the capability to open and manage the tower 24 hours a day. On the other hand, busy airports have the manpower and budget to hire employees who will manage and operate the control units in the tower. In this regard, busier airports can operate 24 hours a day.