Today's photocopiers sometimes come with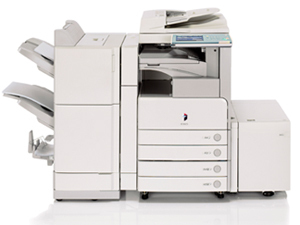 superfluous extra features, but one aspect that shouldn't be dismissed is the physical size. In a small workspace, this factor cannot be ignored.
Photocopier Dimensions: Canon imageCLASS D320
The imageCLASS D320 measures 17.6 x 21.4 x 13.7 inches and weighs approximately 40 lbs. The unit can copy 15ppm with a resolution of 1200 x 600 dpi. On legal size papers, the output is at 12.5ppm. The zoom capability is up to 200% in 1% increments.
The D320 can also print 15ppm with a resolution of 600 x 600 dpi. Other features include a 250 sheet paper cassette and a single cartridge system. The unit works with Windows and has USB 2 connectivity. The package comes with a CD ROM software and power cord.
Photocopier Dimensions: D340 Digital Copier
The D340 measures 18 x 21.4 x 17.8 inches. The unit can copy up to 15 per minute for legal and 12.5 cpm for legal. It can also print 15ppm. It can be zoomed up to 50 to 200% in 1% increments. There is a 250 sheet paper cassette.
There is also a 50 sheet Automatic Document Feeder, ideal for large tasks. The control panel can also be used to enlarge or even make drafts. The printer / copier can be used at home or for small businesses. Because it uses only a single cartridge, it is much cheaper to maintain.
Photocopier Dimensions: Canon PC 170
The Canon PC 170 measures 17.3 x 14.1 x 4.5 inches and weighs 23.2 lbs. This compact copier can copy up to four pages per minute (maximum letter size). It comes with a 50 sheet paper tray and can be used without the need to warm it up. The lightweight design makes it portable.
There is a pop up handle used for carrying. The Canon PC 170 also has an auto shutdown feature. The paper tray can also support paper as small as a postcard. This unit is designed for the user who needs to make an occasional B&W copy.
Photocopier Dimensions: HP 290
The HP 290 measures 33 x 19.9 x 19.1 inches and weighs 18.5 lbs. The unit can produce nine cpm in color and a dozen cpm if B&W. The HP 290 also uses gray scale for producing the black and white images.
The copy resolutions are at 600 x 600 dpi if set to black and 1,200 x 1,200 dpi for color. The device makes use of HP's CopySmart II. This allows for a 25% scale reduction and up to 400% up large.
Other extra features are the 2 on 1 copy mode, mirror mode and clone mode. The HP 290 is compatible with a variety of papers. Among them are the executive, legal, labels and cards. The copier also accepts 16-to-36 lb stock, matte, photo, glossy and transparencies. Iron-on transfers, photo and plain papers can also be used on it.
If you have lots of space, the photocopier dimensions won't matter that much. If you'll need one that's portable, a smaller one is in order.