The A4 dimensions are 8.27" x 11.69". This paper size is part of the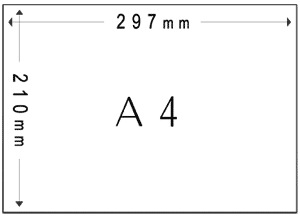 ISO A format papers, the international standard used by most countries.
Comparison with Other Paper Sizes
The A3, A4 and A5 are the most widely used ISO paper sizes. While the A4 measures 8.27" x 11.69", the A3 measures 11.69 inches by 16.54 inches. Its closest equivalent to the American paper standards is the tabloid at 11 x 17 inches.
The A5 paper measures 5.83 inches by 8.27 inches. It is in between the 8 x 5 inch American index card and the 8.5 x 5.5 inch statement size. The A4 dimensions are equal to a couple of A5 sheets.
A couple of A4 papers are equal to one A3 paper. The A4 paper, like the others in the ISO A format, is set upon the metric system.
Use and Application
The A4 paper is used extensively for printed material and technical writing. It is also used for commercial and administrative writing. In most countries (not including the US), the A format papers are used for office and school work. When you use A4 paper for printing, the paper will be accepted in most places.
Many photographers who print their own works use the A4 and other A series papers. The reason is most photo papers are sold in these sizes. The reason is that the A series papers handle camera sensors extremely well.
Availability
The A format papers can be purchased in office supply stores and shops. Aside from A4, the other paper sizes in the ISO standards are widely available too. These papers are sold in a variety of finishes, from glossy to standard to matte.
How to Print on A4 Paper
Step 1
Open your word processing program and change the page layout. If you are using Word, click the "Page Layout" tab. Click the "size" button and choose A4 from the list. The paper size will change accordingly.
Step 2
Turn on your printer. Put some A4 paper on the tray.
Step 3
Press ctrl + P to open the printer dialog box. Go to the "preferences" tab. Click "paper sizes". Choose A4. Click the "paper types" option. Choose matte, plain paper, glossy or whatever the appropriate option is.
Click OK. Click OK again to start printing.
These printing instructions are not just for A4 dimensions, but also for the other paper sizes too. Just choose the right paper size at the printer dialog box.