The A3 paper size is 11.69 x 16.54". This paper size, along with A4 and A5, are the most widely used of the ISO A series of paper formats.
Uses of A3 Paper
A3 paper is used for spreads, large tables and drawings. Most computer software programs and printers support this paper size. This paper size is also used for presentations, advertising
documents, brochures and many more.
How to Print on A3 Paper
Open the program where you intend to print. If you are using Microsoft Word, press the "Page Layout" tab and click the "Size" button (this is under "Orientation").
Select A3 from the page sizes listed. Now turn your printer on. Put a piece of A3 paper (or several) on the printer tray. Follow your printer's instructions on how to place the paper.
Press Ctrl + P. The printer dialog box will open up. Choose "preferences" or "advanced". From the paper sizes option, select A3. There will also be a paper type option. Choose the most appropriate one (glossy, photo paper, matte etc). Choose any other option needed. Click Ok to begin printing.
What is the ISO Paper System?
The A3 paper size belongs to the ISO A paper series. The ISO is the International Organization for Standardization, the group that sets the international standards for paper sizes. The A3 paper is just one of the many sizes in the A format.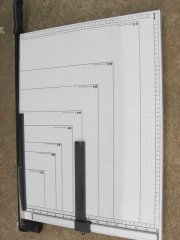 The biggest is A0 and the smallest is A10. The most noticeable characteristic of all ISO papers is the height to width ratio. When the A3 (or any ISO paper) is folded in half by the shortest side, the paper will be equivalent to the next smallest ISO paper.
Acceptance
The ISO paper sizes are used throughout the world. The United States however, has its own paper sizes standards. The closest equivalent is the ledger size. It measures 279 x 432 millimeters or 11 x 17 inches.
But even though these paper sizes are not used widely in the US, they can still be purchased. By using the Internet, you can buy any ISO paper size with ease. There also stores that sells these ISO papers.
Even if you use the American paper size, knowing the A3 paper size may come in handy. The ISO paper sizes are accepted worldwide, so the time may come when you will have to use it. Therefore, familiarity with the A3 and other ISO papers is a must.